Mum cures red raw dry hands with £4 baby moisturiser from Tesco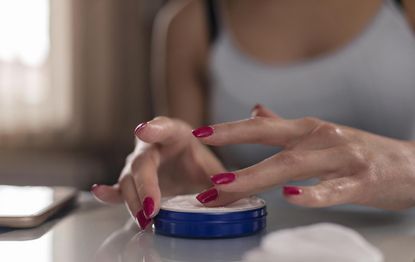 (Image credit: Getty)
A mum has revealed how she cured her red raw dry hands with a cheap high-street baby moisturiser.
Claire Cook, who is a keen horse rider and suffers from dry hands because of it, took to Facebook to rave about the moisturiser that had cured her raw hands.
She posted shocking pictures that demonstrate the difference made in just two weeks of using the Childs Farm Baby Moisturiser.
Made using soothing and hydrating shea and cocoa butters, the award-winning moisturiser is designed to use on babies' sensitive skin, but Claire found that it worked for her too.
'Thought I would let you know about my experience with Childs Farm products,' she wrote in a post on the brand's Facebook page.
https://www.facebook.com/photo.php?fbid=1056584997867090&set=p.1056584997867090&type=3&theater
'Last year I contacted Joanna [CEO and founder of Childs Farm] to tell her about my hands which were in a terrible state,' explained Claire. I work with event horses and I'm constantly getting my hands wet and then dry and also applying gels and ice tight to the horses legs. Not to mention the shampoos etc we use. (yes I should wear gloves whilst doing this things but never seem to remember!) Joanna kindly sent me your Child's Farm products to try.
Read more: What is eczema? Causes of eczema and how to treat it (opens in new tab)
'I had already been to the Dr's several times and had been prescribed many steroid based creams which worked for a while and then I would have another flare up. Open bleeding sores so painful. I was using both your product and the prescribed creams.
'About 2 weeks ago I decided to just use your product only and ditch the prescribed creams and lotions. My photos show the results,' she marvelled.
'Thank you so much. I really was getting so desperate and thought my hands would never heal. I literally wore medical gloves everywhere.. I looked as if I was in an episode of CSI!
She finished: 'I will continue to use the lotion day and night and would definitely recommend it to anyone who suffers as I did.'
The moisturiser is available to buy in a number of UK retailers, including Tesco, Superdrug and Holland & Barrett. And until 21st you can get your hands on the £4 moisturiser for only £3 on Tesco's website and in stores across the country.
Have you had a good experience with any of these products? Head over to our Facebook page to let us know your favourite!