Experts reveal why we should be eating our Easter eggs all in one go
*Dives into Easter egg*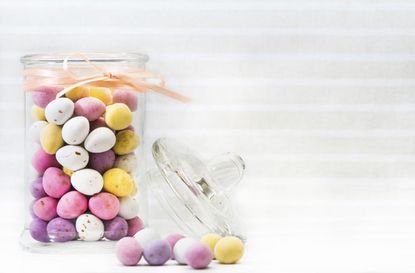 It's the good news we've all been waiting for. There's now scientific proof that it's 'healthy' to eat all your Easter eggs in one sitting.
Ok, so we're not saying gorging on chocolate for the whole of Easter is good for you exactly, but it turns out that scoffing a lot of it in one go rather than spreading it out could be better for your teeth.
Oral hygiene experts TePe say that it's much better to eat all your chocolate eggs in one go, rather than munching on them over the course of the holiday weekend.
The reason? Well apparently when we eat sugar it takes our mouth between 20 minutes and two hours to rebalance its natural levels of acidity, so if you eat the sweet stuff over a long period of time your mouth will be under 'constant attack'. And we don't want that.
They also recommend getting your chocolate fix straight after a meal (bad news for snackers), to minimise exposure to the acids which damage your teeth to as few sittings as possible. All we can think is whether chocolate is now an acceptable dinner in itself?
Now, we're not saying that eating mass amounts of chocolate is good for your diet, but it might be the good excuse we've been looking for to gorge a bit over the Easter holiday weekend.
This news comes after chocolate has had a bit of attention recently for having other health benefits that we never even considered! In fact, we'd go as far as to say there is many a reason as to why chocolate is good for you. Research suggests that the antioxidants in chocolate basically make it a superfood. There is a catch though, it has to have a cocoa content of 60% or more. But if it does it's thought it can help lower cholesterol levels.
Great news, now, somebody pass us an Easter egg!
Rosie is an experienced food and drinks journalist who has spent over a decade writing about restaurants, cookery, and foodie products. Previously Content Editor at Goodto.com and Digital Food Editor on Woman&Home, Rosie is well used to covering everything from food news through to taste tests. Now, as well as heading up the team at SquareMeal - the UK's leading guide to restaurants and bars - she also runs a wedding floristry business in Scotland called Lavender and Rose.