101 famous women in history to celebrate on International Women's Day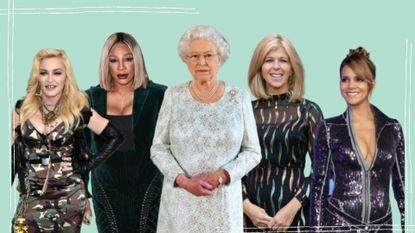 There are so many famous women in history - both from yesteryear and yesterday - some we recognise from every International Women's Day and others who might be new; from Rosa Parks and Marie Stopes, to Anna Whitehouse and Lizzo, the list is ever-growing.
There have been so many celebrated famous women in history, and they all make great role models to turn to on International Women's Day and when wondering how to raise a strong girl (opens in new tab). And this last century has been no different, with a huge array of amazing women who broke it all; rules, barriers, hearts. And most importantly 'the mould' of what being a woman was always thought to be.
Stephanie Lowe (opens in new tab), Goodto.com's Family Editor says; "Remembering women from the past, supporting women in the present and celebrating everything they did and are doing on every International Women's Day is so important. Until full equality is present we - at the very least - need these days to shine a light on all that we do. I am committed to raising my son in such a way that he knows how to recognise and support strong and empowered women."
So, from scientists and astronauts to athletes and singers, these 101 famous women in history continue to inspire and empower others, and ultimately are always redefining what it means to be a woman.Take a look through our very own curated list of the top 101 famous women in history.
Famous women in history: 2020s
1. Stella Creasey (1977-present)
"You might think you're never going to be able to do something, but I want you to add the word 'yet' to that sentence."
As famous women in history go, this Labour MP caused a huge furore when she took her very young baby in a sling into the Commons. She was reprimanded for bringing the tot into the session. The issue has forced Parliament to review their rules. A keen campaigner for worker mother's rights, Stella has constantly battled for better maternity care for MPs and has set up This Mum Votes to help support parents in politics. She is definitely worthy of a space on this, and every, International Women's Day.
2. Jack Monroe (1988 - present)
"Food is such a basic need, a fundamental right, and such a simple pleasure."
As famous women in history go, Jack Monroe rose to fame with her blog A Girl Called Jack - now renamed Cooking on a Bootstrap - which detailed cheap recipes she created as a single parent with a young child, aiming to provide family meals on a super tight budget. She continues to be an active campaigner for a number of causes, particularly those concerned with poverty and hunger.
And in 2022 complained that food prices were rising faster than the official inflation rate, which hit poor people hardest. Since her campaign, the Office for National Statistics have agreed that inflation will now be calculated differently.
3. Rose Ayling-Ellis (1994-present)
"Nothing is impossible, and I know that a lot of deaf children grow up in society that thinks that it's not possible for them to succeed, but no – you can do it."
When Eastenders actor Rose Ayling-Ellis joined Strictly Come Dancing in 2021, little did she know that she would not just be the first deaf contestant, but that she would also go on to win the show.
In week eight, Rose and her dance partner Giovanni Pernice performed a Couples Choice dance that featured a period of silence, included as a tribute to the deaf community. Cited as the unmissable TV event of the year, Rose recently picked up the Inspirational Person of the Year at the Visionary Honour Awards.
4. Kamala Harris (1964-present)
"While I may be the first woman in this office, I won't be the last. Because every little girl watching tonight sees that this is a country of possibilities."
Talk about girl power! When Joe Biden chose Kamala Harris to be his right hand woman, she made history four times over. Not only is she the first female Vice President of the United States, but also the first black and South Asian American VP.
It's not the milestone she's broken either - she was the first Black female attorney general of California AND was the the first South Asian-American senator in US history. Phew!
5. Wally Funk (1939-present)
"Nothing has ever gotten in my way. They say, 'Wally, you're a girl, you can't do that.' I said, 'Guess what, doesn't matter what you are, you can still do it if you want to do it...' "
Despite becoming a professional pilot at just age 20, it took Wally another 63 years to achieve her dream of going into space. Thanks to Elon Musk she became the oldest female ever to go into space when she flew on Blue Origin's New Shepard spacecraft in 2021. Some dreams it seems are well worth waiting for!
6. Sarah Gilbert (1962-present)
"I'm not a woman scientist, I'm a scientist and more than half my colleagues are women and we do the job."
On New Year's Day in 2020 Sarah Gilbert happened to read about four people in China suffering from a strange pneumonia in Wuhan, China. Within two weeks, using her expertise as a vaccinologist she had led a team to design a vaccine at Oxford, which would become the Astrazeneca vaccine.
Not only have billions of doses of the vaccine been released worldwide, but Sarah also had a Barbie doll made in her honour. As famous women in history go, this is all pretty impressive and definitely belongs in our list for International Women's Day.
7. Kate Garraway (1967-present)
"If it means being settled and content, getting older can be a relief."
Beloved by TV viewers for years with her long-running stint on breakfast TV, Kate Garraway was elevated to national icon in 2020 when her beloved husband Derek Draper, sadly caught COVID. Her first documentary Kate Garraway: Finding Derek, released in 2021, won a National Television Award and a BAFTA.
The follow up Caring For Derek shows the reality of caring for a loved one and has won Kate even more supporters.
8. Dame Sarah Storey (1977-present)
"For me, International Women's Day is about recognising that so many women don't have the opportunities we have, but we should highlight that on more than one day of the year."
The schoolgirl Sarah Storey, who was bullied for only having one hand, probably never contemplated just how successful she would be in later life. On 2 September 2021, she beat the gold medal record to become Great Britain's most successful Paralympic athlete of all time after winning her 17th Paralympic gold medal.
9. Megan Jayne Crabbe (1993-present)
"The body positive movement allowed me to reclaim so much life I'd been putting on hold or denying myself because I believed my body wasn't good enough."
As famous women in history go, UK based Instagram star Megan Jayne Crabbe is known for her her body-empowerment messages, which have been featured around the world. She posts body positivity and feminist messages to her 1.3 million followers on Instagram.
In 2017 Megan made the leap from online to offline with her first book, Body Positive Power, a manifesto on all the reasons why we hate our bodies, and how to change them. Two years later she toured a sell-out live show called The Never Say Diet Club.
10. Lizzo (1988-present)
"I don't think that loving yourself is a choice. I think that it's a decision that has to be made for survival."
She plays a flute (while dancing), raps, writes her own songs and acts - Lizzo is fast becoming one of the brightest stars on the planet. Just three years after releasing her first single, she's won three Grammy Awards. But her appeals goes much deeper than someone with banging tunes - she's a LGBTQ+ advocate (named by Queerty magazine as one of their Pride 50 trailblazing individuals) and a body positivity icon.
11. Emma Raducanu (2002-present)
"I don't really think about other people's opinions or expectations. The only ones I have are that of myself, to improve and get better."
As famous women in history go, British tennis player Emma Raducanu gave us all a much needed pandemic lift in 2021, when she made history by becoming the first qualifier and youngest British player to win a Grand Slam title at the US Open. She's also become somewhat of a mental health advocate for young sportspeople after withdrawing from Wimbledon due to breathing difficulties, which she later put down to physical exhaustion.
12. Sky Brown (2008-present)
"It's OK to fall sometimes and I'm just going to get back up and push even harder."
What were you doing when you were 13? Mucking about with your mates? Wearing too much Heather Shimmer lipstick? Day-dreaming about the hot new boy at school? Not skateboarding star Sky Brown, who at 13 became the youngest ever British Olympian winner, when she took a bronze medal home in the park event.
What's even more amazing, is that Sky, who is the youngest professional skateboarder in the world, doesn't even have coach - she watches You Tube and learns the tricks that way! Bravo Sky, you are more than deserving of recognition on International Women's Day.
Famous women in history: 2010s
13. Baroness Helena Morrissey (1966-present)
"Diversity should not be a second-order concern – multi-coloured sprinkles on the cake of ability – it merits equal billing."
International Women's Day is made for high-flying female executive and former CEO, Helena Morrissey. She wants to see more women in top jobs, so in 2010, she established the 30% Club to campaign for greater female representation on company boards. She's also managed to find time to have nine children, and with the support of her stay-at-home-husband, and in 2020, she became Baroness Morrissey, sitting in the House Of Lords.
14. June Sarpong OBE (1977-present)
"Believe in yourself and be proud of who you are. Don't let anyone tell you differently. There is beauty in everyone and no one should stop you from growing into a confident and strong young person."
s famous women in history go, June is impressive. After a hugely successful career as a TV presenter (and helping our hangovers with her stint on T4), in 2019 June Sarpong was made the BBC's first Director of Creative Diversity.
She has also written two books on diversity issues and co-founded the Women Inspiration and Enterprise Alliance, an international conference supporting female excellence and empowerment.
15. Bryony Gordon (1980-present)
"Female self-loathing has been handed down throughout the generations"
As famous women in history go, mental health advocate Bryony Gordon is up there. The creator of the Mad World podcast, where she has interviewed well known people including about their mental health.
One of the biggest guests to appear on her show was Prince Harry in 2017 who revealed how the death of his mother Princess Diana triggered decades of mental health struggles.
Bryony also founded Mental Health Mates, a national initiative where people can meet, walk and talk.
16. Jacinda Ardern (1980-present)
"To me, leadership is not about necessarily being the loudest in the room, but instead being the bridge, or the thing that is missing in the discussion and trying to build a consensus from there."
While not the first female Prime Minster in New Zealand, Jacinda is the youngest to have served in the last 150 years. A popular leader, she supports Maori rights, feminism and same-sex marriage. A feminist icon, she berated a journalist when they asked her about her intentions to have children. In 2021, Fortune magazine listed Jacinda as the world's greatest leader.
17. Anna Whitehouse (1981-present)
"We believe flexible working isn't a 'nice to have' nor is it a 'bonus', it's a fundamental change to the fabric of our working lives."
As famous women in history go, Anna is still making history every day with every win. It was commuting two hours each way to work, juggling life with a young baby, before Anna Whitehouse finally snapped. The last straw? She was fined by her daughter's nursery for being late.
She quit her job and Mother Pukka was born. Out of her blog came the Flex Appeal, which aims to help shift, holding up companies who are doing the right thing. She's worked with companies such as the NHS to make flexible working a reality for everyone, not just parents.
18. Alicia Garza (1981-present)
"We want to see a world where black lives matter in order for us to get to a world where all of our humanity is respected."
Alongside Patrisse Cullors and Opal Tometi Alice Garza created the Black Lives Matter hashtag. She is credited with inspiring the slogan when, after the July 2013 acquittal of George Zimmerman of murder in the death of Trayvon Martin, she posted on Facebook: "I continue to be surprised at how little Black lives matter... Our lives matter."
In 2020, Alicia was included in Time magazine's 100 Most Influential People of 2020 and the BBC's 100 Women.
19. Misty Copeland (1982-present)
"Be strong, be fearless, be beautiful. And believe that anything is possible when you have the right people there to support you."
espite not taking up ballet until she was 13, Misty Copeland rose quickly up in the world of ballet and in 2015, she made history by becoming the first African American woman to be promoted to principal dancer in the American Ballet Theatre's 75 history!
20. Lauren Mahon (1985-present)
"I'm proud that I managed to handle what life threw at me in the way that I did and to use my lived experience as a force for change."
After being diagnosed with breast cancer in 2016, Lauren Mahon founder Girls vs Cancer, an online community, helping to crush the stigma of the disease and help to create change. Alongside Deborah James and Rachel Bland (who has since passed) away, she presents a podcast You, Me and the Big C, described as 'The coolest club you never want to be a part of...'
21. Jessica Ennis-Hill (1986-present)
"The only one who can tell you 'you can't win' is you and you don't have to listen."
As famous women in history go, Jessica Ennis nails it. Called 'Britain's most influential sportswoman' by The Guardian, Jessica Ennis became the face of the London 2012 Olympic games. Heptathlete and mother Jessica won gold in the event at the Olympics with her time in the 100m hurdles setting a new British record, the fastest time ever run in a heptathlon.
22. Laura Bates (1986-present)
"Women are silenced by both the invisibility and the acceptability of the problem."
As famous women in history go, Laura founded the Everyday Sexism project back in 2012 and it quickly spawned a phenomenon - encouraging women to call out the daily sexism that came their way. She was awarded the British Empire Medal in the 2015 Birthday Honours for her services to gender equality.
23. Hannah Graf (1987-present)
"[my husband and I] want the world to know that it's perfectly possible to be #transgender and #happy!"
A huge lift for International Women's Day, transgender activist Hannah Graf was one of the highest ranking transgender soldiers within the British Army.
In 2013, she came out as a transgender woman and became the Army's Transgender Representative, advising Senior Army commanders on transgender policy, while also mentoring the Army's many transgender soldiers. She made further headlines when she married Jake, also transgender.
The couple continue their advocacy work and are both patrons of the Mermaids charity. In 2020, they welcomed their first child.
24. Gina Martin (1992-present)
"If you want to create meaningful change that works you have to do it within that system."
Activist and author Gina Martin was at a music festival in London in 2017 with her sister when she was upskirted by a man in the crowd.
Defined as taking a sexually intrusive photograph of someone without their permission, Gina was shocked to find that it wasn't a sexual offence. She then launched a campaign to change the law, and in 2019, the Voyeurism (Offences) Act came into force.
25. Mhairi Black (1994-present)
"I am tired of being told that pensioners cost too much, I'm tired of young people being told they're not good enough, I'm tired of immigrants being scapegoated for the mistakes of bankers and politicians."
As famous women in history go, Scottish politician Mhairi Black made history in 2015 when she became the youngest MP elected since 1667 at the age of 20. Before entering politics, she worked in a fish and chip shop, proving that anyone can become a MP. She has strong views, is proudly LGBT and has often spoken out out in Westminster about the misogynistic and homophobic abuse directed at her online. A true fit for International Woman's Days applause.
26. Madeline Stuart (1996-present)
"A model is supposed to represent reality, and in reality, people come in all shapes, sizes, nationality, and colour."
In 2014, Aussie Madeline Stuart declared she wanted to be a model and a year later it came true, when she walked a catwalk show during New York Fashion Week, becoming the first ever professional adult model with Down's Syndrome.
Since then, she's not looked back - launching her own fashion label and working tirelessly with charities to further spread her message of diversity and inclusion.
27. Simone Biles (1997-present)
"I'm not the next Usain Bolt or Michael Phelps ... I'm the first Simone Biles."
As famous women in history go, Simone Biles has been shattering gymnastics records day by day. In addition to a combined total of 32 Olympic and World Championship medals, she he already has two gymnastics skills named after her - the Biles on floor and the Biles on vault. Diagnosed with ADHD when she was a child, she's also a keen advocate for neurodiversity.
28. Malala Yousafzai (1997-present)
"I truly believe the only way we can create global peace is through not only educating our minds, but our hearts and our souls."
As famous women in history go, Malala Yousafzai gained global attention when she survived an assassination attempt at age 15. In 2012, after writing various blogs for the BBC for a few years, the Taliban attempted to assassinate Malala on the bus home from school.
She survived, but underwent several operations in the UK, where she lives today. After her recovery, she continued to fight for women's and children's rights, and in 2014 Malala became the youngest person to win a Nobel Peace Prize. She's also only the second Pakistani to ever receive a Nobel Prize.
29. Amanda Gorman (1998-present)
"We the successors of a country and a time where a skinny Black girl descended from slaves and raised by a single mother can dream of becoming president only to find herself reciting for one."
American poet Amanda Gorman made history as the