How the Queen changed the rules for Prince Louis' name – and the controversy it caused for Harry and Meghan
The late monarch intervened to change a rule that had been in place for a century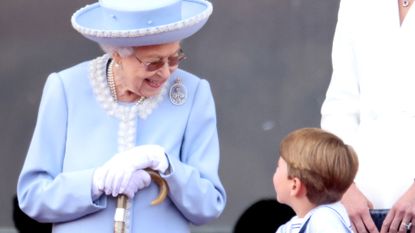 (Image credit: Getty)
Prince Louis nearly had a different title until the Queen intervened – but there's been royal controversy as she didn't do the same for Prince Harry and Meghan Markle's children.
The Queen changed a century-old rule that prevented the great grandchildren of the sovereign from getting royal titles.
Prince Harry and Meghan Markle claimed that not extending the rules to their children would affect their security.
Louis, Prince William and Kate Middleton's youngest child, was named Louis Arthur Charles, after Lord Louis Mountbatten, who died in an IRA bombing in 1979, and his grandfather, King Charles.
The young prince's official title is His Royal Highness Prince Louis of Cambridge. However, the five-year-old only has an HRH title because his late great-grandmother stepped in to overrule a rule that had been in place for a century.
In 1917, King George V set out which royals could have titles, and who was too far down the line of succession to have one. While all of a sovereign's children, as well grandchildren born through the male line, were to have royal titles, great-grandchildren of a sovereign weren't included.
But as Prince George was the Queen's great-grandson, and set to be a future King, it was decided by the Queen that he get a title. And, she decided to change the rules further to mean that Princess Charlotte and Louis would both get royal titles too. If she didn't, Louis would likely be known as Master Louis Cambridge or Windsor instead.
However, the late monarch didn't make the same change for Prince Harry and Meghan Markle's children. Following the Queen's death last year, Archie and Lilibet are now Prince and Princess respectively, but still cannot use the HRH title because of their father leaving his role as a working royal – his own use of the HRH title is currently in abeyance.
It was thought that the couple didn't want Archie to have a royal title, so that he'd be able to enjoy a more 'normal' life, like Harry's cousins Mark Phillips and Zara Tindall.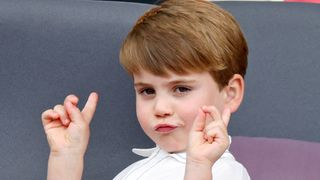 But in Harry and Meghan's 2021 interview with Oprah Winfrey, Meghan explained that her son not having an HRH title would impact his security. She told Oprah, "They were saying they didn't want him to be a Prince or Princess, which would be different from protocol, and that he wasn't going to receive security. This went on for the last few months of our pregnancy where I was going, hold on for a second. They said [he's not going to get security] because he's not going to be a Prince.
"Okay, well, he needs to be safe so we're not saying don't make him a Prince or Princess, but if you're saying the title is what's going to affect that protection, we haven't created this monster machine around us in terms of clickbait and tabloid fodder you've allowed that to happen which means our son needs to be safe."
Parenting advice, hot topics, best buys and family finance tips delivered straight to your inbox.
Adam is an experienced writer who regularly covers the royal family and celebrity news for the likes of Goodto, The List, The Metro, and Entertainment Daily. However, you can also find Adam covering relationships, mental health, pet care, and contributing to titles such as Creative Bloq.