Actress Anna Paquin gets very honest about the struggle of raising twins
The True Blood star jokes that herself and husband Stephen Moyer wouldn't be able to handle expanding their brood right now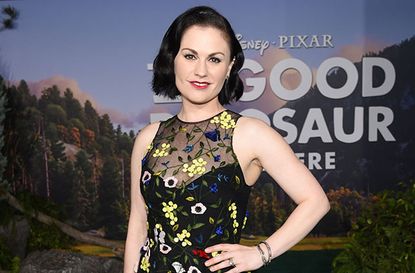 Actress Anna Paquin is happy to admit that raising twins can be a real challenge.
The True Blood star welcomed Poppy and Charlie with husband Stephen Moyer in September 2012, and Anna made it clear the fraternal duo keep her very busy.
'How the eff do you raise triplets?' she mused, talking about the struggle of raising twins. 'It's lucky that you have two hands. You have two boobs, two legs, two hands - two kids are plenty,' she quipped.
'You figure out where the enclosed playgrounds are. It's a bit of a logistical joke.'
Anna also went on to reveal the reason why her kids aren't publicly photographed, explaining that she and her 48-year-old partner made the decision to keep their five-year-olds out of the spotlight together.
'I want the right to say that they're not fair game. Don't mess with my cubs,' said Anna
'Everyone chooses what works for their family. There are aspects of one's private life that are fun and cute and not too revealing.'
Having been famous since she impressively bagged an Oscar as a child for her portrayal of Flora in The Piano, Anna confessed that she's always been conscious about revealing too much about her 'real life'.
Anna was just 11 when she was awarded the prestigious accolade, making her the second youngstest person ever to win an Academy Award.
'I've always been very private. I'm not as neurotic about it as I was when I was younger. I don't want people to know too much about my real, inner private life,' she continued during her interview with Today Parents.
'That's part of having been a teenager and feeling constantly, brutally self-conscious and not wanting anyone to stare at me but having a job where that was part of it.'
Anna, 35, tied the knot with Stephen in August 2010 at an intimate wedding ceremony in Malibu, California.