Alan Carr confirms marriage to long-term partner Paul Drayton
Alan Carr has married his long-term boyfriend Paul Drayton in a small, intimate ceremony over in LA.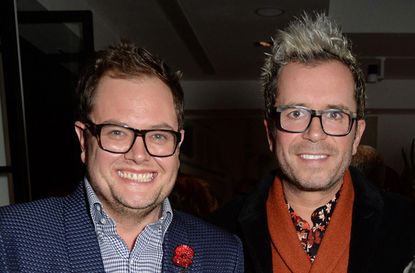 Alan Carr has married his long-term boyfriend Paul Drayton in a small, intimate ceremony over in LA.
The TV presenter and comedian's reps confirmed the happy news, stating that the couple had held a 'small, private ceremony' last week.
Alan Carr, TV's self-confessed 'Chatty man', has been with partner Paul for nearly 10 years.
With Alan's array of celebrity and showbiz contacts, and Paul's profession as a top party planner, many fans were surprised by the news that the couple had wed so secretly. However, Alan Carr's reps have also confirmed that the pair are planning a much bigger 'do this summer to celebrate their marriage.
Alan's publicist revealed that the newlyweds are 'planning a big celebration with all their family and friends' which will take place in the UK this summer.
His publicist also said that the pair, 'are both extremely happy.'
After their surprise wedding ceremony in LA, Alan and Paul headed straight off on a sun-drenched honeymoon to Mexico.
Posting a photo of the pair from their romantic trip in Los Cabos, Mexico, Alan joked about all of the food they had been enjoying whilst abroad.
[instagram]
'After 10 days of tacos and tequila this sadly is the only thing that fits me' Alan quipped. 'Diet starts manana!'
While the announcement of the couple's wedding may have taken fans by surprise, the couple have actually been engaged since 2016.
Alan Carr revealed that the couple got engaged while on holiday in Indonesia with Paul choosing an unconventional way of popping the question – by hiding the ring in the TV star's pudding!
'He asked me to marry him in Lombok' Alan told the Sun afterwards.
[instagram]
'I went to the toilet and came out to eat dessert. And then I was like, 'Oh my God, a filling's come out, just my luck on holiday'. I pull it out and it's this ring.'
'Then the chef, all the staff came out and the manager and sang Can You Feel the Love Tonight.'
Alan also revealed at the time that he hopes pal Adele will sing her hit Someone Life You at the wedding.