12 best bath products for your baby 2022: including toys, bath seats and skincare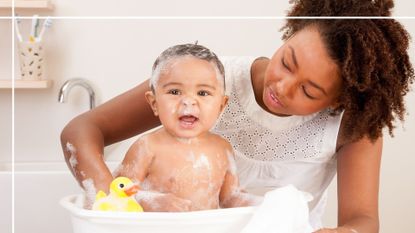 Having the best bath products for your baby to hand for bath time could make the whole process a lot smoother.
Whether you're a bath-them-every-night kind of parent or only on Sundays, each to their own. But all parents know bath time can go one of two ways; a joyous occasion or a bit of a battle. Either way, we've found the best bath products for baby to help make your job as chief bather, a little - dare we say - easier… First, regardless of seats, inserts or mini bathtubs, a baby or toddler should never be left unattended in the bath. Not even if for a minute not even in shallow water, according to NCT (opens in new tab). Ensure safe habits and always keep bath supplies within arm's reach.
Also, when it comes to skincare for newborns, the NHS (opens in new tab) advises not to use anything apart from cotton wipes and clean water to wash your baby, as soap and other products are harsher on a new baby's skin, which is thinner than an adults' is.
Consumer Editor at Goodto.com, Heidi Scrimgeour (opens in new tab) says; "Parenting is a pricey business, so we want you to buy right first time. And, if there's a product that can adapt with your child as they grow then that's always a game-changer too." Here's our round-up of the 12 helpful buys;
1. Dreambaby digital room & bath 2-in-1 duck thermometer
Why you can trust GoodTo Our expert reviewers spend hours testing and comparing products and services so you can choose the best for you. Find out more about how we test.
The ideal temperature for a baby's bath is around 36-38 degrees celsius which is around body temperature. The water should feel neither hot nor cold. Start with cold water in the bath first, then add hot water and mix well to ensure there aren't any hot spots.
Running your baby's bath those first few times can be terrifying… "is it too hot, too cold? They can't tell me, how will I know." And while every seasoned mum may say 'always use your elbow to tell' sometimes we're still not sure and feel more comfortable with the extra assurance of technology.
With a reading available in 10 seconds this thermometer - with its great digital display - is easy to read, and doubles as a bath toy. You can use it out of the bath to measure room temperature too. This bath thermometer has been tested to Toy Standard: EN71 and has an auto shut off feature after 30 minutes to retain battery life, so you don't even have to remember to switch it off.
VIEW AT JOJOMAMANBEBE | £9.99 (opens in new tab)
2. Skip Hop Moby Smart Sling 3-Stage Tub
Age suitability: Birth to 2 years+
As best bath products for baby go, this is a great buy. Anything that you can buy once and have it through a good few years is worth it in the land of baby bath products. And this bathtub grows with your child through three stages;Stage 1: Newborn (0-3 months; up to 5.5 kgs)Stage 2: Infant (3-6 months; up to 7.5 kgs)Stage 3: Sitters (6+ months; up to 9.5 kgs)
This bathtub comes with a mesh sling to cradle your newborn, this can be removed once they get a little older. You are then left with a cushioned seat that supports babies learning to sit. Then, once they are sitting unaided you can remove the seat to reveal a spacious bath for your baby to have a good old splash around in.
It also comes with an easy drain plug and swivel hook for hanging on the showerhead or towel rack to dry, the Skip Hop Moby Smart Sling 3-Stage Tub really is a smart solution.
And, with over 200 reviews on John Lewis online, it's easy to see why this is a favourite. With one reviewer saying: "this tub is absolutely adorable! I think it's a great size in comparison to other tubs I've seen/used, and it could definitely be used for a great length of time. Sling was super easy to attach to the tub- very self-explanatory. I also like that the tub has a hook on the back that can be used to hang the tub to dry!"
VIEW AT JOHN LEWIS | £45 (opens in new tab)
3. Safety 1st 360 ° rotatable bath seat
Age suitability: 6 months to 1 year
Before using any suction cup bath seat, always ensure that your bathtub is clean from any soap residue that may cause the cups to lose suction.
This baby bath seat has over 17,000 reviews, and is an 'Amazon Choice' with 4.6 out of 5 stars. With four suction cups for extra safety and a rotating seat to keep your child engaged in bathtime as they grow.
One buyer says; "This bath seat is brilliant. My daughter is 6 months and has only just started sitting up. She holds herself well in the seat and the bottom has got a rougher surface to help with the slipping. She does slightly slip but more because she kicks her legs around all the time. The seat sticks extremely well to the bath and doesn't move unless you really force it. There is plenty of room for her to grow in it and I would definitely say this will do her until she is old enough to sit in the bath herself. It's so easy to clean and maintain.
VIEW AT AMAZON | £15 (opens in new tab)
4. Baby Bath Kneeler with Elbow Rest Pad Set
A waterproof, detachable and foldable bath kneeler complete with elbow rest and pockets.
Bath time can really take its toll on tired limbs and if you, or your baby's carers have bad knees or a delicate back this can make all the difference.
Mum-of-two Jo says; "I know it's not the prettiest. But I'd tried two well-known brands before finally deciding to try this. The cushion padding is so thick and comfortable and I don't find half my shin hanging off when I'm on it. I can't do bath time without it."
Another Amazon agrees, rating it 5 stars saying; "10/10. It's very comfortable to kneel on to do bath time and lean your elbows on as well."
VIEW AT AMAZON |£27.99 (opens in new tab)
5. Boon Ripple Bath Mat Blue
Age suitability: 6 months to 2 years+
A perfect subtle bath mat that comes with drainage holes and covers a large portion of the bath with a super soft texture for your little one to sit on.
Mum of three, Dejun tells us; "This was the third bath mat I bought after two rubbish ones. My biggest tick was that this one comes with a hook built in so when bath time is over I can drip dry it from my shower over the bath. It's so simple yet so few mats have this!"
While it's not machine washable mums who have this told us they give it a wipe down while its hanging off the shower. Easy enough to do with no fuss.
VIEW AT AMAZON | £14.99 (opens in new tab)
6. Elli and Raff Baby Hooded Bath Time Towel 100% Cotton
Age suitability: Birth to 2 years
With over 2,500 ratings on Amazon - and ranking number 3 on the 'most wished for' list - it's easy to see why these machine washable hooded towels are a number one bestseller. Plus coming in a pair is great as having more than one is ideal so if there are any accidents with the nappy off you have one spare while the other is in the wash.
One reviewer gave four stars, saying: "Really soft towels and I like they are thick. Perfect for a newborn as can swaddle him in it. And the good thing is, it's the right size when wrapped up so it doesn't cover his face."
VIEW AT AMAZON (opens in new tab) | £7.75 (opens in new tab)
7. John Lewis & Partners Baby Dino Towelling Mitt
Age suitability: 6 months to 2 years+
As best bath products for baby go, this is super simple and super cute 100% cotton bath mitt is a must. Many may use it to gently wash their baby in the bath but mum Louisa has other ideas.
Here mum-of-one Louisa shares how she uses it; "My daughter has a LOT of hair. I found a towel would be too much, too heavy on her head and a flannel was not enough and would constantly slip away from me. I bought this bath mitt and it's great for drying her hair. It stays on my hand and is super soft."
VIEW AT JOHN LEWIS | £4.25 (opens in new tab)
8. Childs Farm Strawberry & Organic Mint Kids Shampoo
Age suitability: 6 months+A hugely popular choice among parents. These products are dermatologist and paediatrician tested and approved as suitable for skin that may be prone to eczema. Childs Farm did a survey among parents with children who have been medically diagnosed eczema, and 97 percent of the parents involved said these products did not cause irritation to their child's skin.
One reviewer on Amazon left 5 stars, saying: "Love the smell of this. I use it on myself as well as my kids as I have sensitive skin and cleans well. It is convenient to have a minimal number of toiletries in our bathroom as we are a family of 6. I would recommend this product, especially to those who have sensitive skin."
VIEW AT AMAZON | £6.30 (opens in new tab)
9. AVEENO Baby Daily Care Moisturising Lotion