The best toys for 1 year olds in 2022 - tried and tested
Our pick of the best toys for 1 year olds to stimulate, educate and delight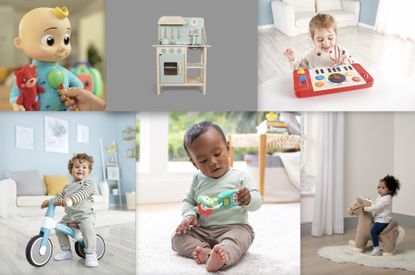 (Image credit: Future)
The best toys for 1 year olds aren't just fun for little fingers to explore and engaging to play with - they're also highly supportive of this important stage in your baby's development.
Choosing the best gifts and top Christmas toys (opens in new tab) for one-year-olds isn't just about picking items that will capture your baby's attention or look beautiful in your home. Babies go through key developmental milestones (opens in new tab) around their first birthday, including taking to their feet and becoming more mobile. Most one-year-olds are keen to explore the world around them, whether they are bottom shuffling, crawling or walking, so this stage of play is all about supporting them to do so safely. With this in mind, toys like ride-on vehicles are ideal to ensure that playtime is as practical as it is fun.
Play is vital for developing lots of important skills, so toys that help support this process are an especially good investment. For example, one-year-olds are perfecting the ability to pick up small objects between their thumb and index finger - a skill known as the 'pincer grip' which will eventually help them to use a pencil at school. The best toys for one-year-olds, therefore, include items that help stimulate and encourage the development of this very important skill.
Many children will be mobile by their first birthday. Whether they are bottom shuffling, crawling or walking, kids will be keen to explore more of the world around them at this stage. That means they'll gravitate towards toys that will help support them as they try to stand up or even move around, such as the best baby walkers.
All of that said, educational toys for children aren't necessarily the best toys for one-year-olds. 'The important thing is to provide children with a range of playthings and allow them to play freely with different toys,' says child psychologist Dr. Amanda Gummer. 'This helps with things like decision-making skills, self-awareness, emotional wellbeing, and creativity.'
How we chose and tested these toys
We went on the hunt for the best toys for one-year-olds and tested them out with a team of toddlers to make sure they are products that little ones will love. You can read more about how we test and review products (opens in new tab) but here's what we took into consideration when shortlising the best toys for 1 year olds:
So that you can easily find the best playtime buys to suit your 12-month-old, we have included sensory toys, toys to encourage physical development, and options that encourage role-play too.
We also picked products with a range of different aesthetics, from wooden toys that will look fantastic on the nursery shelf, to colourful toys with light and musical features that your child won't tire of - and which won't drive you mad!
Best toys for 1 year olds
---
---
---
---
---
---
---
---
---
---
---
---
---
---
---
---
---
---
---
---