Thule Shine Stroller Review
We asked journalist and mum Emma Winterschladen to put the Thule Shine stroller through its paces for this review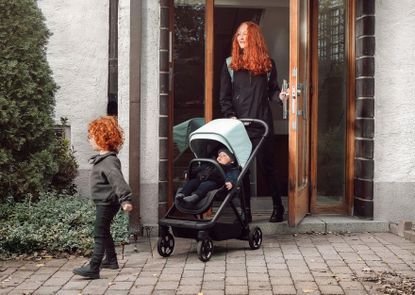 (Image credit: Thule)
'As a smart urban pushchair, the Thule Shine not only looks the part but it's a joy to use. It's robust and feels like it will last a long time, plus there are numerous different accessories (sold separately) to take you through different ages, stages, and seasons. I have already recommended it to my 'mum friends' - especially those who admired its appearance!'
Reasons to buy
+

Fabulous colour options and stylish look

+

Extremely comfortable for baby

+

A joy to push - very smooth
Reasons to avoid
-

Expensive, especially if you add all the extras
We asked mum Emma Winterschladen to put the Thule Shine Stroller to the test with her eleven-month-old daughter, Elphie.
The Thule Shine is a compact stroller designed for city living. With a well-padded seat, adjustable leg rest, and a well-ventilated canopy, it can carry your baby in comfort from birth to toddlerhood. Our parent tester feels it's well worthy of a place in our guide to the best pushchairs but you can add the bassinet (£189.99) to convert this from an upright pushchair to a lie-flat pram.
Pounding the pavement calls for a particularly robust pushchair. It needs to be sturdy enough to handle steep curbs and uneven pavements but manoeuvrable enough to make weaving through busy streets easy. The Thule Shine has all that covered, with a reversible seat that reclines almost flat plus a built-in leg rest and a fully extendable canopy for comfy snoozes when you're on the move. All-wheel suspension helps keep your baby protected from a bumpy ride, even on cobblestones, while the fact that you can push it with one hand means nipping through town with a coffee in hand isn't out of the question just because your baby is with you.

Since city living tends to mean navigating public transport and having less space to store a bulky pushchair, the Thule Shine can be folded with one hand and is freestanding and compact for easy storage when it's not in use. An integrated handle makes it easy to carry up a flight of steps or through an airport, too.

The shopping basket is a decent size and can hold up to 10kg plus it's easy to access so you can pop your change bag in there and still have space for a day's grocery shopping.
Design
Star rating: ⭐⭐⭐⭐⭐ | Weighs: 9.85kg | Age: Birth – approx. 4 years (22kg)

It's always a good sign when a tester is impressed by a piece of baby gear before they've even put it together or tried it out. That was certainly the case when we asked Emma to take delivery of the Thule Shine and then assemble it and review it for Goodto.
'First impressions, upon unpacking and assembling our new bit of kit, are that this is by far the most handsome stroller I've come across. It has lines and curves in all the right places. It's robust but not chunky or clunky, and it's sleek and smart, but not too serious with it,' she says. 'By that I mean it has an air of superior quality about it - the fixtures click into place effortlessly, without the need for a step-by-step guide, and the black aluminum frame, grip-friendly handles, and padded interior all look and feel like they've been extremely well-engineered. And yet, there's something fun and almost 'fashion' about it. Perhaps it's the Misty Rose canopy which I was immediately taken with – though it does come in other chic colours such as Alaska Blue, Grey Melange, and also Black.'
But it's not just the way the Thule Shine looks that impressed our tester. 'It's also the way it moves,' adds Emma. 'You can manoeuvre it with ease and confidence, no doubt helped by the stroller's low centre of gravity, which seems to help with steering and ensure you don't bump into shelves in a narrow shop aisle.'
The stroller itself is pretty lightweight, but it has what our tester calls 'a real weightiness' when you push it - a feature she particularly likes. 'It feels sturdy and strong and like it's built to last. The reflective, trimmed wheels (all four of them) are small (7-inches), smooth, and certainly more suited to streets than fields. Although, having both rear and front suspension and puncture-proof wheels means it can also handle bumpier urban surfaces, as well as gravel, curbs, and, in my case, stoney canal paths.'
Comfort and features
Thule's top-line sell for the Shine is that it's a 'comfortable and compact city stroller' but our testers says you could swap 'city' for 'small market town' and it would be just as accurate. 'Comfort-wise, Elphie tends to fall asleep within five minutes of being strapped in – always a good sign,' says Emma. 'This, I think, is due to the stroller's snug safety set up. Its 5-point harness means that, although there's often a minute of protesting as I get the buckles aligned, once she's in, she's in – secure and happy.
'The seat also has three recline settings, so even if Elphie is sitting upright when we're out and about and she dozes off, with just a press of a sliding button I can smoothly ease her into a near-flat position without disturbing her. In this way, it's become somewhat of an alfresco nap vehicle. Often, I find myself wheeling my nap-resistant baby into our backyard, trusting that within minutes she'll be asleep to the sound of birdsong (and she always is). Better still, because of a small, breathable mesh window on the hood, I can peep and check she's asleep without having to risk lifting up the extended canopy.
'As for 'compact', it's so far managed to nimbly navigate through Devizes' charity shops and small independent cafes with effortless ease – no easy feat. For something so compact, it still offers a generous undercarriage basket with 10kg of capacity. This, in shopping terms, translates to a sizeable midweek shop – from packets of scones and jars of jam to pints of milk and bottles of wine, all will happily fit, alongside nappy bags and other essentials. Better still, there's a real 'throw-it-in-ability' about the basket's design – it's open enough that you don't need to crouch down excruciatingly low to put things in but because of its high mesh sides, everything feels snug and secure. I also love the backseat pocket (similar to that behind a car seat) where I stow my keys, phone, and other smaller, significant bits - brilliant for maximum accessibility and safety when out, especially as I don't carry a handbag.
Value for money

Having established that the Thule Shine is a brilliant 'about town' pushchair, Emma took it with her on a well-timed trip to visit a family member who lives 265 miles away near Newcastle. 'It was during this epic trip the Thule was truly put to the test across a wide range of surfaces, situations, and environments – from the seemingly endless steps and lifts of London's Underground to the crowded carriage of an East Coast train; and from the steep hills down to North Shields' Fish Quay to the cobbles of Tynemouth market,' she says. 'And I have to say, for a stroller that is not explicitly a travel stroller, it travelled extremely well. The chassis is too big to stow away in above-seat compartments but it does fold and dismantle, with just a few clicks and button pushes, into a piece of two-part luggage. And once we were up North, the adjustable height positions on the handle (ranging from 90cm to 103cm) proved very useful, offering a comfortable pushing position for both me (5"4) and my Dad (6"2).'
Back down South, our tester found the recent heat wave a prime opportunity to test two of the Thule Shine's accessories: a sweat-proof summer liner and a drinks holder, which clips onto the side of the pram. 'The former, with its ventilated mesh material, has kept Elphie's legs and back cool and because it's detachable, it really is as simple as sweat, wash, repeat,' says Emma. 'The latter has spent most of the spring clutching either an iced coffee or bubble tea so I don't have to. This proved especially useful as, though the Thule Shine is compact and not heavy as such, it's not particularly 'lightweight' in its steerage, so I did find that having both hands free made a big difference – with both hands free to push, the ride is smoother and navigation niftier.
As for other not-yet-needed, but useful-to-know-about accessories, our tester has her eye on the Bassinet and Newborn Inlay and Newborn Nest for when she hopes to have another baby in the not-too-distant future. 'Though it may be that Elphie and her future sibling end up fighting for a ride in the Thule Shine, as it does go up to toddlerhood!'
Overall this is a smart, sturdy, and smooth-riding urban pushchair that can take you seamlessly from newborn to toddlerhood, with sleek foldability, generous storage, and a premium range of all-season accessories.
Don't forget to check out the rest of our baby product reviews.
As a parenting specialist for more than 15 years, Heidi has written for most national newspapers and for a wide range of consumer magazines, including Mother & Baby where she was the Shopping Editor for six years, looking after regular consumer features including buying guides and gift roundups.