The best prams for your newborn baby, tried and tested by parents
Find the best pram to keep your newborn lying flat with our pick of the best based on real reviews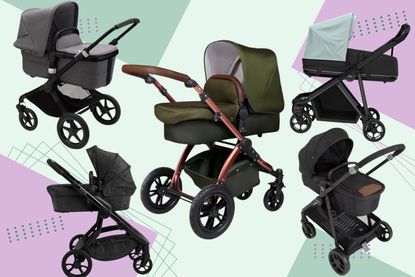 (Image credit: Future)
Recent updates
We recently tested another pram — the Inglesina Aptica XT Travel System— and have updated our guide to include the review. We've also updated prices and links, so keep scrolling to find the latest deals.

The best pram for you needs to work with your home, lifestyle, budget and, of course, your baby. With hundreds of designs on the market, it can be difficult knowing which is the right one for you. To give you a helping hand, we've put 16 of the top, market-leading models to the test.
A pram is probably the single, most expensive piece of baby kit you're going to buy and, with some premium models costing upwards of £1,500, you don't want to splash out and get it wrong.
When choosing a pram, you need to think about your particular lifestyle needs, the type of terrain you'll be pushing it on, how and where you're going to store it, how heavy it is and, if you've got a car, does it fit in the boot? Because it's a problem if it doesn't. Picking the right pram will make excursions with your baby an enjoyable, relaxing experience, picking the wrong one and you'll dread heading out with them.
This guide covers every budget and style of pram, with something for both 'city slicker' parents and those who live in the country. Read on for our reviewers' honest feedback on the best prams on the market now and find the right one for you.
Best prams 2023 - our top pick
In a hurry to find the best pram for a newborn baby? The Ickle Bubba Stomp gets our vote. It's not the cheapest pram we've tested but it represents brilliant value for money as it comes with absolutely everything you need to get out and about with your baby from day one. There's no need to fork out for compatible extras or accessories. This pram is a marriage of style and practicality - it looks glam but it has a huge shopping basket. Our tester found it a dream to push, especially on bumpier terrain including country parks and coastal paths. Best of all, she found the plush materials super easy to clean - always a bonus with a newborn baby.
Best prams - as rated by our parent testers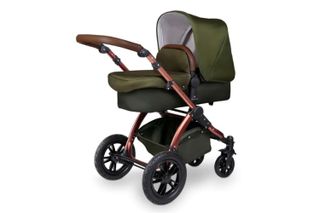 1. Ickle Bubba Stomp V4 Special Edition All-in-One Travel System with ISOFIX base
Best pram - unbeatable price for this classy 'travel system' bundle
Specifications
Weighs: 7.1kg (chassis)
Age limit: birth - 22kg (approx. 4 years)
Reasons to buy
+
A dream to push
+
Stylish design
+
No extras to buy
Tested by: Johanna Hewitson, mum to three-month-old Georgia
We say: This is an impressive 'travel system' deal that simplifies the process of buying a pram and saves you money compared with buying each of the parts separately. You get both a newborn carrycot (0-6m) and a reversible pushchair seat (6m+) included, along with a Galaxy 0+ car seat (with Isofix base, worth £179) which is suitable from birth to 13kgs/12-15 months. And that's not all - they've even thrown in a nappy change bag and window sunshades for your car.
Our tester says: The Stomp looks very sleek and stylish and is an absolute dream to push. It glides along effortlessly and has an 'off-road' feature which makes walking over the grass much less bumpy for the baby. The adjustable handle is great for shorter-than-average mums, like me, and makes the pram even more comfortable to push. I am especially impressed with the leatherette handle and the bumper bars as they're so easy to wipe clean – always a brilliant feature whenever children are involved.
I also love the quilted carrycot liner, super comfy for keeping my little one on her newborn sleep schedule, and the way the pram hood extends to create a cosy, den-like atmosphere for my baby - and I am impressed that it offers 50 UPF sun protection. The extra-large shopping basket is also a real bonus.
Verdict: This is the best pram of all those we've tested because it comes with literally everything you need to get out and about with your baby from day one – and you don't need to rob a bank to pay for it.
The pram is both supremely stylish and great value for money - a winning combo. We love the premium fabrics and the classy colour options, and the fact that you can choose the colour of the frame. (Bronze is stunning and definitely gets our vote.)
Choosing a complete 'travel system' bundle like this takes all the stress and hassle out of shopping for a pram. You don't need to shop around for extras like a compatible car seat or spend yet more cash on extras like a carrycot - it's all included. It's also built to last but still great value, with all the extras covered in the price. Top marks!
---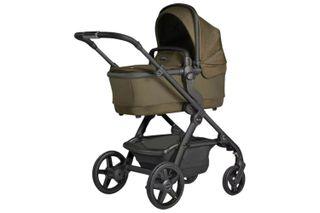 2. Silver Cross Wave
Best premium pram - beautiful, luxurious and it 'grows' with your family
Specifications
Weighs: 17.7kg
Age range: Birth-26kg (approx. 6 years)
Reasons to buy
+
Light and easy to push
+
Detachable, separate carrycot
+
Wonderfully comfy for baby
Tested by: Johanna Hewitson, mum to Georgia, three months.
We say: The Silver Cross Wave is a beautifully crafted pram that's mind-bogglingly versatile. It's cleverly designed to adapt to your family's changing needs, so it's perfect if you're a first-time mum hoping to add to your family - with the Wave, you can 'future-proof' your pram.
What does that mean? You can use it as a single pram but then later convert it to a double, so you could accommodate both a baby and a toddler at the same time. It's also ideal if you're expecting your second baby but have a toddler who still needs to use a pushchair. You can also add an infant car seat, a tandem pushchair seat, or even a second carrycot. Overall, you can create 30 different configurations for carrying a baby, siblings, or twins. Add a ride-on board, and you could even carry three children at once!
The Wave also has multi-terrain wheels and independent suspension so it handles brilliantly on all kinds of surfaces, rather than being better suited to one type of terrain. This means you can move seamlessly between the park and the pavement without worrying about whether the pram can cope.
Our tester says: This pram certainly lives up to the manufacturer's claim that it's both beautiful and luxurious - I fell in love with it on first sight! And all the little finishing touches make it look so smart and chic.
My husband also fell in love with it when he realised that the carrycot and the pushchair seat are on two separate frames. This means no fiddly assembly for him when setting it up or switching between using the carrycot or the seat!
The carrycot is well-positioned so it doesn't restrict access to the shopping basket, and there's plenty of space for storing a couple of bags of groceries. The Silver Cross Wave also comes with a separate storage bag for each of the rain covers (one for the carrycot and one for the pushchair seat), and each seat comes with an insect net.
The inside of the carrycot is beautifully plush and well-padded - in fact, I noticed my baby was pressing her hands into the sides so she clearly liked the feel of it too. Also, the zip-on cover is really easy to pop on and off.
Verdict: If you're looking for a really luxurious pram for your newborn - and don't mind paying extra for first-class craftsmanship - the Silver Cross Wav