What to do with old baby clothes
What happens when your baby gets too big for his teeny-weeny clothes?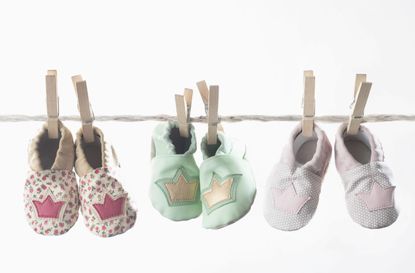 What happens when your baby gets too big for his teeny-weeny clothes? Do they just pile up around the house along with all the ones that do actually fit?
If you're planning to try for a new brother or sister, you'd do well to hang on to them. And don't worry about the gender of your second - my daughter absolutely loves her Spiderman hand-me-down pyjamas!
However, if you've decided that the baby shop is now closed, it'd be a shame to let your stack of children's clothes become dinner for the moths. Whether you want to see them go to a good home, feel the urge to be charitable or want to get a bit of the cash, here's the lowdown on how to do it.
Show and sell
Nearly-new sales, such as those run by the National Childbirth Trust, are popular and can sometimes feel more like a rugby scrum than a charity event. The NCT prides itself on selling items of nearly-new quality only, so their sales attract lots of buyers. If you like the sound of this, head to the NCT website.
NCT sales are part of the trust's fundraising so you'll have to make a contribution to sell items. Each branch organises things differently, with some charging a flat rate to rent a table, while others do the selling for you and take a cut. Ask you branch organiser for a seller's pack to check out how they operate in your area.
Make sure you think carefully about your pricing strategy. Clare Etinger, an NCT sale organiser from Wiltshire, says, Bear in mind that the better the quality, the better it sells, but there's often a ceiling on what people will pay.
Price items competitively, Claire adds, but if you don't sell them the first time at the sale, you can always reduce the price and try another time. The perk of being a seller is that you get to pick the best items from other stalls before the doors open to the hordes. For more tips on sorting out old clothes, read our advice on kids closet organization. (opens in new tab)
Get the bids in
The eBay website is one of the most popular ways to sell unwanted baby gear, as it provides access to thousands of potential buyers nationwide without needing to step outside your own front door.
You have to register and create a seller's account at ebay.co.uk, and you'll be charged a small fee to sell your items. Take a picture of your items in a well-lit area, clear images are much more appealing.
Next, think about pricing. Carey Maguire of eBay has some tips:
To get an idea of what to sell your item for, check out eBay's Completed Items search and find out what similar items have gone for
The next step is to write a listing title and description for your items. 'Imagine you're the buyer,' says Carey. 'What key words would you type in to find your item? What would you want to know? 'You need to provide all the information a buyer needs, such as brand, age, colour condition etc. 'Be honest,' says Carey, 'Don't withhold information, because it may become an issue later.'
Consider packaging and weighing your item in advance, as eBay will then calculate the postage costs for you. Finally, decide the duration of your listing - from one day up to 10, and wait for those bids to roll in!
Other sites that you can sell clothes and other items on include: Gumtree, Depop and there are even selling communities on Facebook!
Bank baby clothes
Charities such as Oxfam, Scope and the Salvation Army welcome donations of clothing, which are generally sold in charity shops to raise money for their programmes of work. Schemes such as Oxfam's Wastesaver send second-hand clothes to Mozambique, Malawi or Angola for emergency use, and provide warm winter clothing for homeless and destitute people both in the UK and abroad.
Even your wrung-out old muslins can be used, as Scope spokesman, Rob Dyson, explains. 'Damaged clothes, unsuitable for sale, are sold to textile traders by the kilo.' Scope then uses the proceeds to fund their work. There are nearly 3,000 charity-run textile banks nationwide and door-to-door clothing collections. See Practicalities below for info.
Boot it up!
Car boot sales are held in a wide variety of venues and are advertised on the internet and in the classified columns of local newspapers. For a small fee you can sell your unwanted property for whatever you can get. Price your goods beforehand with labels but remember that haggling is all part of the experience, so expect to lower your prices.
Arrive early and bag a good position where you'll get plenty of passing trade. Take a table or clothes rail to display your goods, a chair to sit on, spare cash for change, warm clothing, rainwear and boots in case you find yourself in a muddy field. And take refreshments to keep you going 'booting' is hungry work.
Charity begins near home
Check if your local nursery or mum-and-toddler group need cast-offs. Some groups keep a stock of spare clothing in case of little accidents or may welcome those purée-stained T-shirts to use as painting overalls.
Bring and buy
If you attend a parenting group, organising a bring-and-buy sale is one way to raise funds for new toys and equipment. Many volunteer-run groups have to run fundraising activities in order to remain eligible for local authority grants. A bring-and-buy sale is easy to organise. Give plenty of advance notice of the event, then all you need are a few large tables, a box for collecting money and spare change, plus someone to watch over your little one while you man the stall.
What are friends for?
Consider passing clothing on to friends with younger children. Or hold a clothes swapping party - a night in, with wine and nibbles when everyone brings along their unwanted clothes and takes home someone else's.
Keeping your keepsakes
Some items are too precious to part with. A friend of mine dressed a soft toy in one of those teeny newborn outfits and is still amazed that her lofty lad ever fitted into it. Another friend made a patchwork quilt out of cloth from her baby layette. If you're not handy with a needle, a classic keepsake box does the trick.
Lisa's eBay 'accident'
One mum's account of how she grew a business from selling her second-hand baby clothes and products.
Lisa, from Cheshire, turned a clothing clear-out into a thriving business (http://stores.ebay.co.uk/Funkymums-Funky-Boutique).
'I discovered eBay six years ago when I was looking for a breast-pump. It was in its infancy back then: when I first signed up there were about 60 items for sale in the baby section, but now there are thousands. My son was 3 months old and growing out of his clothes, so I started selling bits and bobs. In my first week I made £7, then £21 the second week and £150 the week after.'
She continued: 'I'm very proud of the business I've built, which now earns me more than my old job. I've created a business by accident, all because I couldn't bear to see my boy's clothes go to waste!'