Best books for teens: 12 must-reads for 13-18 year olds
Getting teens to read isn't always the easiest task these days thank to all their phones and laptops! This collection of modern must haves and classic reads is sure to peak their interest and spark a love of literature.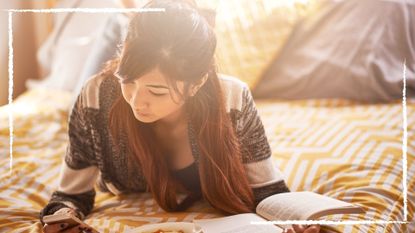 Best books for teens include magic, travel, finding themselves, using their voice, love, heartbreak, best friends, the lot. And every single one comes with an underlying message to help your teen navigate life.
As parents of teens, you've probably moved on from the best books for toddlers, and the best books for kids. Though, no one is ever too old to love a personalised book.
When it comes to helping your teen choose a book, Kirsty Ketley, Parenting Consultant says: "Keep their minds open, explore different genres that provoke the best reactions - think fantasy, books that are relatable to them, adventure stories, autobiographies or sci-fi.
"It's important to make sure that the books they pick are suitable for their age group and level of understanding. And ensure that younger teens are not reading anything too graphic or adult."
She adds; "Some parents find that reading a book first themselves, helps determine what might be or not be suitable, and it readies them for any questions that may come up from reading it."
So, to help with that we've found 16 of the best tried-and-true books you and your toddler will love.
1. Love from A to Z
Age suitability: 14-17 years | PaperbackZayneb's teacher, who keeps reminding the class how "bad" Muslims are. As the only Muslim in class, she's angry.When she gets suspended for confronting her teacher and he begins investigating her activist friends, Zayneb heads to her aunt's house in Doha, Qatar, for an early start to spring break. Then her path crosses with Adam's.
A heartfelt, honest, and featuring characters readers will fall in love with, this is sure to become a beloved book for many.
One Amazon reader said: "This book is absolutely stunning and it touched my heart so deeply. It's one of the most beautiful love stories I've ever read, it feels so raw and real. It deals with lots of important things, it's hard-hitting and difficult to read at times, but it's also interwoven with so much hope. An absolutely stunning book that's unlike any other YA that I've read."
VIEW AT AMAZON | £7.99 (opens in new tab)
2. The curious incident of the dog in the night time
Age suitability: 13+ | PaperbackSeen through the eyes of Christopher, a mathematical genius and Sherlock Holmes fan, who also has Asperger's syndrome, this bestselling novel opens with the discovery of a murdered dog on the neighbour's lawn.
In his search to discover the identity of the killer, Christopher uncovers some disturbing information about his own family, which throws his ordered world into chaos, and he embarks on a journey to London to find the mother he thought was dead.
One reader said: "I thoroughly enjoyed this book, it is not a story about aspergers but a story of seeing the world through the eyes of a young man who happens to have aspergers. The main character is honest and engaging.
The description of the crime in the beginning was graphic and violent which I imagine a lot of people, especially young readers, would find shocking and unpleasant."
VIEW AT AMAZON | £5.94 (opens in new tab)
3. Girls in Love
Age suitability: 12-17 years | PaperbackAs best books for teens go, this is stamped as a 'Teachers' Pick' on Amazon, this is a great novel and has a funny and frank take on friendships, problems and heartaches that older fans will adore too.
The beauty of this story lies in the strong sisterhood of these three unique characters, in spite of their differences. The message is about trusting your instinct. Keep talking with friends, and turn to them to ask for their support.
VIEW AT AMAZON | £5.94 (opens in new tab)
4. They Both Die at the End
Age suitability: 14+ | PaperbackOn September 5th, a little after midnight, Death-Cast calls Mateo Torrez and Rufus Emeterio to give them some bad news: they're going to die today. Mateo and Rufus are total strangers, but, for different reasons, they're both looking to make a new friend on their End Day.
A number one bestseller on Amazon, with over 18,850 ratings gives it a 4.6 out of 5. One reader said: "They Both Die At The End is a fascinating speculative-YA about living vs. dying. It also features a gay Puerto-Rican main character and a bisexual Cuban main character, and I am ALL ABOUT the own voices representation."
VIEW AT AMAZON | £4 (opens in new tab)
5. Holding up the Universe Penguin
Age suitability: 12-18 years | PaperbackEveryone thinks they know Libby Strout, the girl once dubbed 'America's Fattest Teen'. But no one's taken the time to look past her weight to get to see who she really is. Her mum died and now she has to go to high school, and she wants to be the girl who can do anything.
Stamped as a 'Teachers' Pick' on Amazon it has over 2,900 ratings and a strong 4.5 out of 5 stars. One reader said: "Very good, very emotional. Really kept me hooked until the last page- she's a great author and it's made me reevaluate life, as every good book should."
VIEW AT AMAZON | £6.55 (opens in new tab)
6. Little Women Penguin
Age suitability: 10+ | PaperbackStamped as a 'Teachers' Pick' this is a timeless classic that boys and girls will both love. Mary's friendships grow in a lovely way throughout the chapters.
The story follows the lives and loves of four sisters which ultimately has a tragic end. Again, it's a classic and a must-have for any book shelf.
With over 8600 ratings, this book has a strong 4.4 out of 5 stars. And one reader said: "What a fantastic book! I was a bit sceptical about buying this book since I thought maybe it wouldn't suit an adult. But I was proved completely wrong since no matter whatever age you are, you will surely enjoy this. This is one beautiful book which I read slowly (over a month) , I would highly recommend every girl and boy to read this brilliant classic!
VIEW AT AMAZON | £5.94 (opens in new tab)