The best family holiday destinations for 2017
Where will you head to this year?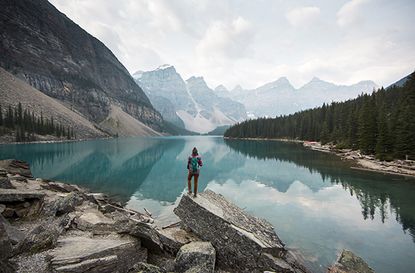 (Image credit: Getty Images)
2017 is set to be one of the best years for travel, with many countries celebrating some big birthdays and new hidden gems being discovered.
We've rounded up the spots that would make the best cheap family holidays destinations for the year, including the most affordable, kid-friendly, relaxing and visually breathtaking locations that our planet has to offer.
From staycations in the UK, to long-haul flights to far off lands, there's plenty of choice for discovery in 2017.
UK
Hadrian's Wall
This historical site in Carlisle was built in 122 AD when the Romans occupied Britannia, and is celebrating its 30th anniversary as a Unesco World Heritage site this year!
Hadrian's Cavalry, an exhibition involving 10 different sites running along the remains of the wall, will be running for the next six months, and it's definitely not one to miss. The Cavalry will replicate the old Roman battle formation, complete with soldiers and horses.
But that's not all - you can visit Vindolanda and its soldiers' messages on tablets, have an immersive audiovisual battle experience in its Roman Gallery, or learn fighting tactics and horse dressing at the Segedunum Roman Fort.
Book a holiday to Carlisle (opens in new tab)
North Wales
The northern region of Wales is perfect for a dose of family fun, especially if you're a thrill-seeking bunch! Thanks to recent investments in adventure activities, you can get your fix from a whole load of zip-lines.
From Europe's longest and the world's fastest zip line (Zip World Velocity), to underground zip-line and rope bridges through carverns (Zip World Cavern), there's really no other place for fast fun.
It's not just zip-lines - northern Wales also boasts white water rafting and the world's first inland surfing lagoon (Surf Snowdonia), which is as large as six football pitches!
If adventure isn't really your thing, then there's plenty of beautiful scenery and country walks to be had. Mount Snowdon is surrounded by a gorgeous national park, full of rare flora and fauna. The region also has two Michelin starred restaurants - you're going to need a good meal after all of that activity!
Book a holiday to North Wales (opens in new tab)
Edinburgh
2017 marks the Scottish capital's 70th anniversary of being the Festival City, so expect some amazing performances.
Since its first International Festival in 1947, it now holds 12 festivals a year, including the theatrical Fringe Festival and the International Film Festival.
It's also very child-friendly, with plenty of activities such as a city farm, a butterfly and insect world, and the National Museum of Scotland - which holds interactive exhibitions on ancient Egypt and Scotland, science and technology.
Book a holiday to Edinburgh (opens in new tab)
Europe
Granada, Spain
Spain's history of its Moorish occupation is so visually rich in Granada, what with the astonishing palaces and gardens of the Alhambra being Spain's most-visited monument.
It's the perfect place to take the family on a stunning historical tour, where the kids can learn first-hand that there's a whole lot more to Spain's legacy than just tapas, guitars and Real Madrid. The Alhambra allows kids under 12 to enter for free, where they can explore its gardens and towers. The city is also very close to a water park (Aquaola) and lots of beautiful beaches (La Rabita and Almunueca).
Book a holiday to Granada (opens in new tab)
Finland
Rated as one of the top three countries to visit in 2017 by Lonely Planet, Finland is soon to be on everyone's radars. 2018 will be the 100th anniversary of the country's independence, so this year will be spent ramping up for some amazing celebrations. Expect firework displays and more in Helsinki's Töölönlahti Bay and Kansalaistori Square later on in the year, or the interactive exhibitions at Heureka for a year-round attraction.
Finland also boasts some fantastic natural scenery, so if you need to unplug and appreciate the world around you, then head to Hossa National Park. It's opening this year to celebrate the country's centenary, and has peaceful hiking trails to track down ancient rock art, kayaking and funghi-foraging, and plenty of wildlife that you definitely won't find in the UK.
Elk, reindeer, great grey owls - and even bears, wolves and wolverines if you manage to spot them! Nature-lovers will definitely fall in love.
Book a holiday to Finland (opens in new tab)
Croatia
Croatia was a definite favourite in 2016, but there's no reason why you shouldn't pay a visit this year. Dubrovnik is a tourist must-see, thanks to its beautiful clusters of orange roofed buildings that offset the clear, deep blue sea next to them.
The pedestrian-only city has a range of beautiful sites like Baroque churches, and also plenty of fantastic restaurants, resorts and adventure sports areas.
However, 2017 is the year to switch things up by visiting a town like Pula, which hosts an ancient Roman amphitheatre (no need to go to Rome!) - one of the best preserved worldwide. For a more relaxed beach holiday, try the Rovinj and Porec resorts slightly further out.
Book a holiday to Croatia (opens in new tab)
Florence
If you're an art and architecture lover, then Florence is the perfect city break for you. Home to some of Europe's most stunning art museums and galleries, decadent yet affordable restaurants, and a breathtaking landscape, it's no wonder why people fall in love with the Tuscan city.
It's the site of not one but three statues of David - Michelangelo's original is indoors at the Galleria dell'Accademia, and one of the copies stands on Piazzale Michelangelo, a hill that looks over the entire city.
Be amazed by the intricate details found on every street corner, and be prepared for some of the most delicious food you've ever tasted - pizza and gelato is a must! Book a holiday to Florence (opens in new tab)
Marseille, France
As France's oldest city, Marseille is rich in cultural and architectural history. However, thanks to recent funding, new museums are opening all over the city, and public transport, restaurants and accommodation are experiencing a drastic makeover.
You can visit the Old Port and its bustling market, have some fun at the aerial Pastre Adventure Park, or visit one of the many Mediterranean beaches.
The Calanques are only a quick boat ride away, with deep valleys of limestone with intricate geological formations that descend down until they're submerged by the ocean - a day trip definitely worth taking. Book a holiday to Marseille (opens in new tab)
The Azores, Portugal
The Azores are some of Portugal's best kept secrets, so you can ditch the Algarve this year. A group of islands that are a two-hour plane journey from Lisbon, they host some seriously cool geological activity. From the moment you land in Sao Miguel, you can see plumes of steam rising all over the island up into the sky from its famous hot springs.
The Azores combine nature and relaxation - you can choose to hike around the lovely countryside or visit a tea plantation, or you can relax in the outdoor hot springs at Poça da Dona Beija, with naturally orange-ish water thanks to the metal deposits from the earth.
Book a holiday to Portugal (opens in new tab)
Long Haul
Canada
2017 marks the 150th anniversary of Canada becoming its own country within the British Empire, and it's for that reason that Lonely Planet named the country it's number one place to visit in 2017.
As the second largest country in the world, it has an amazing range of landscape and nature, and is home to some of the most vibrant cities in the world. Mountain ranges (the Canadian Rockies), deserts (Osoyoos), and clusters of islands at sea (the Inside passage) are all on offer, as well as the Canadian Artic up north and the famed Niagara Falls.
Toronto is one of the most diverse and cosmopolitan cities worldwide, with plenty of family activities. Kids can explore life in 19th century Canada in an open-air historical museum (Black Creek Pioneer Village), chase thrills in Canada's Wonderland theme and water park, or catch a glimpse of Niagara Falls from Toronto's CN tower.
Book a holiday to Cananda (opens in new tab)
Sri Lanka
This island in the Indian Ocean is as big as Ireland, and is full of things to do and see. Sri Lanka hosts a beautiful range of beaches, Unesco world heritage sites and impressive wildlife.
The West and South feature water activities on its relaxing beaches, and the Hill Country offers some respite from the heat if needed. Ancient temples and ruins will bring out your adventurous side, and you can visit national parks to spot some wildlife (Uda Walawe) including crocodiles and leopards.
Animals are in abundance here, with elephant sanctuaries and orphanages (Pinnewala), coral reefs to snorkel in, and turtle hatcheries.
Book a holiday to Sri Lanka (opens in new tab)
Where are you going on holiday this year? Have we missed anywhere from our list? Let us know in the comments below!
Trusted, informative, and empathetic – GoodTo is the ultimate online destination for mums. Established in 2007, our 15-year-strong archive of content includes more than 18,000 articles, 1,500 how-to videos, and 7,000 recipes.