The best scooters for kids from small children to older kids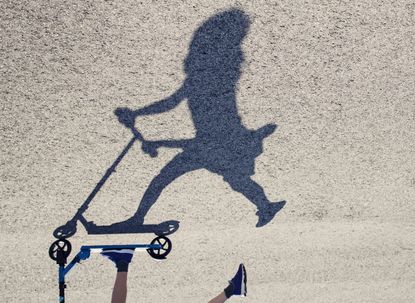 (Image credit: Getty Images)
Our pick of the best scooters for kids 2020.
Whether you're buying your little one their very first scooter or looking for a model that your older child can ride to and from school, we've rounded up the best scooters for kids of all ages.
We've included both stable, three-wheel models for smaller kids and two-wheel designs for older children with more confidence - and balance!
READ MORE: The best balance bikes for kids
What do all the best scooters for kids have in common?
Why you can trust GoodTo Our expert reviewers spend hours testing and comparing products and services so you can choose the best for you. Find out more about how we test.
The best scooters for kids aren't always the cheapest. However, with adjustable handlebars and good quality materials you can be assured that these scooters will stand the test of time. You'll be passing these scooters down through the family!
There will always be a second hand market for good quality scooters too. Try sites like eBay if you're looking to buy a scooter for a more affordable price. It's also a great place to sell on your child's scooter once they've outgrown it. As long as the scooter is still in good condition of course!
Emma Dines, Halfords (opens in new tab) Buyer for Kids Bikes and Scooters, says that the main factor when buying a scooter: 'is to ensure the child feels comfortable and secure whilst riding it, depending on skill level'.
What age can a child use a scooter?
Out of our round up of the best scooters for kids, the youngest age suitability is 15 months. However, Emma points out that as well as considering a child's age when buying them their first scooter, you should also take into account their ability. Are they already steady on their feet? Do they run around and balance with ease?
"There are two main areas for parents to prioritise whilst buying a scooter for their child," Emma told us.
"The first is addressing the child's age and ability. If it is their first scooter at a young age, the primary focus needs to be on a three wheel, but those of a higher age with more confidence may prefer to go down to two wheels.
"The other factor is budget. Make sure the product you are looking for is the perfect choice for your child, yet remains in line with a pre-planned budget."
Scooter safety
"Protection whilst riding a scooter is just as important as riding a bike," Emma says. "You should always ensure that you put safety first."
"Choose a helmet that fits the child well and make sure they are wearing it at all times whilst on the scooter. For further protection, you can always buy some knee and elbow pads to avoid any scuffs and scraps."
Always monitor your child while they use their scooter. This is especially important in any area where there may be vehicles.
The best scooters for kids
Kids will love whizzing around on these three and two-wheel scooters. As well as being great fun, riding scooters will also build your child's balance and hand-eye coordination. Plus, scooting is great way for your child to keep fit and healthy.
Globber Comfort Kids Scooter Seated Ride On
Age suitability: 15 months +
Why is this scooter so good? The Evo Comfort offers 3 different modes to easily transform alongside the different stages of your child's development. The model starts as a ride along toy that can be pushed as parents, transforms into a balance trike and finally a scooter. The convertible handle also means that when it becomes a scooter it will continue to grow with your child – meaning you could be looking at over 5 years plus of use from just this one model!
Price: £84.99
Ozbozz My First Scooter
Age suitability: 2 years+
Why is this scooter so good? The perfect starter scooter for any child, this model comes with four wheels so your child can get confident with balancing and scooting, and can then be adjusted to become a 3 wheel scooter and then just a 2 wheel scooter when your little one has scooting down to a T.
Price: £19.99
Deluxe Foldable Scooter
Age suitability: 3 years+
Why is this scooter so good? Parents love the fact that this scooter is foldable, so it's easy to carry when kids get tired of riding and practical to pack in the back of any sized car. They also love the affordable price point and the three sturdy wheels – making it the perfect scooter for little ones who don't have much experiencing in scooting!
Price: £69
SmarTrike Scooter T3
Age suitability: 3 years+
Why is this scooter so good? The T3 has two adaptable stages – a practice mode and a freestyle mode - that help to improve your child's skills in a fun, innovative way and allows them to get more fun out of the scooter as they become more confident. The handlebar height isn't adjustable on this one though, so it won't grow with your child.
Price: £53.42
Zinc Rock N Roll Tri-Scooter
Age suitability: 3 years+
Why is this scooter so good? Foldable for easy storage and adjustable so that it can grow as your child does, this tri-scooter is a great first scooter for kids to get to grips with scooting on something that is low cost.
Price: £26.25
Micro Mini Micro Deluxe Scooter 2-5 years
Age suitability: 2-5 years
Why is this scooter so good? Adjustable handlebars mean that this scooter can grow with your child. Lightweight and ideal for negotiating pavements, this update to the classic Micro Scooter is also foldable and comes with a brake that works by bringing the scooter to a gentle halt with just the slightest pressure for easy handling. (Also comes in purple and navy)
Price: £75.95
Razor Power Core E100 Electric Scooter
Age suitability: 8 years+
Why is this scooter so good? One for the bigger kids who are looking for a scooter that will challenge their skills and provide a new element to their scooting fun, this is an electric scooter for kids. Kids will love zipping along on this model, with a top speed of 10mph. Thanks to the fact that it's electric, this scooter comes with a steep price tag, but it's the best in the range.
Price: £268.49
An internationally published digital journalist and editor who specialises in SEO strategy and content production, Rachael has worked as a writer and editor for both news and lifestyle websites in the UK and abroad. Rachael's published work covers a broad spectrum of topics and she has written about everything from the future of sustainable travel, to the impact of the coronavirus pandemic on the world we live in, to the psychology of colour.