5 best baby sleep books: Expert and parent approved
The best baby sleep books to help introduce baby to sleeping through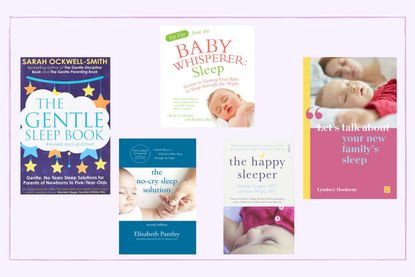 (Image credit: Future)
The best baby sleep books are the holy grail. But know that sleep training your baby will come with lots of 'should we?' questions and opinions from other people - solicited and not so solicited. Know that it is your decision, you know what is right for you, your baby, and your family.
No one really knows how the phrase 'sleeping like a baby' came about as babies tend to have fraught sleep, with little to no pattern or consistency. And, you might be okay with this, and you are happy being baby led. Or, you might need the baby monitor and space from your baby, for both your mental health, and to empower your baby to find sleep their own way.
I'm Family Editor at Goodto.com and for me it was about understanding more of what and how baby sleep works and where the brain and development is at the time, that really helped. That and going into the room with a plan, any plan as long as I didn't feel utterly clueless. Feeling hopeless all but destroyed me, so I inhaled books and researched anything and everything on baby sleep. If I had more of an understanding of 'X happens because of Y' then I coped with it better.
Baby sleep training, whether you choose the Ferber Method, Controlled Crying or the EASY baby routine, its your decision. Baby sleep expert, Sarah Patel tells us; "When it comes to sleep training, there are many ways to get your baby to sleep through the night. These strategies involve getting to know your baby's particular sleep needs and creating loose routines which support these. If your instinct is telling you that your baby needs your responsive and loving support to learn to sleep independently, know that you can do this."
Getting your little one on a regular schedule can benefit you and establish healthy sleeping habits for your little one. Turning to books written by baby experts, like doctors, nurses, and fellow moms can help your baby ease into sleep. We've rounded up the best books to help guide you with sleep training.
5 best baby sleep books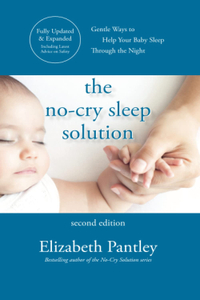 1. The No-Cry Sleep Solution - £11.45 | Amazon
As baby sleep books go this is a best-selling no-tears guide to making sure your baby, and you, get a full night's sleep. It's easy to use and has been expanded to include more solutions plus critical new sleep safety information.
Expert says: Sleep expert, Sarah Patel explains; "This was one of the first gentle 'sleep training' books and is still very relevant today. Author Elizabeth Pantley includes her personal experiences of getting all four of her children to sleep though the night without resorting to cry it out."
---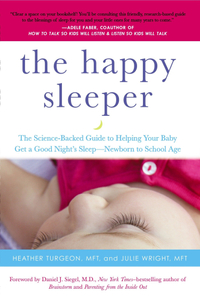 2. The Happy Sleeper - £8.99 | Amazon
Authors, Heather Turgeon And Julie Wright are both psychotherapists and sleep experts. This is a researched based book with age appropriate sleep information overlapped with the science of sleep. They also share information on mindfulness and meditation ideas for parents. An easy read, it provides a step-by-step program for both babies and toddlers using their specially devised method.
Mom says: Mom-of-one, Natasha tells us; "It's a hard step for some parents to buy a sleep training book so I'd recommend buying it for every expecting friend. It is hands down the best book for parents who don't just want to let their kids cry it out. The practical sleep wave gives you a plan of action to deliver while baby is crying, so you feel like you have a plan and not at a complete loss."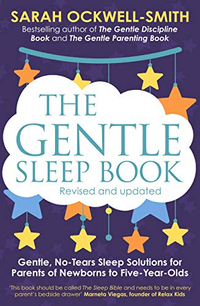 3. The Gentle Sleep Book - £6.43 | Amazon
The Gentle Sleep Book offers gentle, reassuring and effective solutions to addressing the common sleep problems of newborns to five-year-olds.
Expert says: Sarah explains, "This is a great gentle sleep book which provided detailed support for each age range which is supported by up-to-date research and is easy to dip in and out of."
---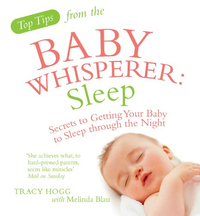 4. Baby Whisperer: Sleep - £7.99 | Amazon
Tracy Hogg's incredible sensitivity and ability to read infants' cries, coos and assorted baby noises quickly earned her the admiration in the parenting community. This book shares her wisdom and down-to-earth advice, her practical sleep programme will help you overcome your baby's sleep problems and works with infants from as young as a day old.
Mom says: Mom-of-one, Steph tells us; "My son's sleep fell off a cliff around the 5 month mark, and I felt lost, I had no plan. I was exhausted and at my lowest I screamed at my baby to 'GO TO SLEEP', he whimpered terrified. I knew I needed to arm myself. A friend passed this one and wow. It took time, it wasn't a '15 minute wonder' but it did work. So perfectly."
---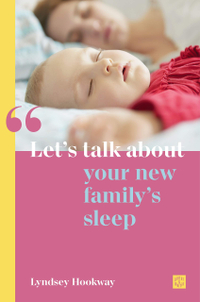 5. Let's talk about your new family's sleep - £12.59 | Amazon
This book offers evidence-based, non-judgmental, and practical advice that doesn't ignore that there are real people with real feelings who are struggling with their baby's sleep. With practical and easily implementable ideas, and clear explanation of the many myths surrounding infant and baby sleep, this gentle and holistic guide is so helpful.
Dad says: Dad-of-two, Lee tells us how this book made him realise he wasn't alone; "I like Lyndsey's straightforward, evidence based, responsive and kind approach. Before this I wasted so much time and energy worrying about my baby's sleep unnecessarily. There is so much garbage out there about sleep schedules, not feeding to sleep, not contact napping, self-settling etc - Lyndsey cuts through all this rubbish and reassures you about what real normal infant actually sleep looks like."
---
Related features:
Video of the Week:
Stephanie Lowe is Family Editor at GoodTo covering all things parenting, pregnancy and more. She has over 13 years' experience as a digital journalist with a wealth of knowledge and experience when it comes to all things family and lifestyle. Stephanie lives in Kent with her husband and son, Ted. With his love of choo-choos, Hey Duggee and finger painting he keeps her on her toes.