Billi Mucklow appears to confirm the gender of her second child with fiancé Andy Carroll
Congratulations to this adorable couple!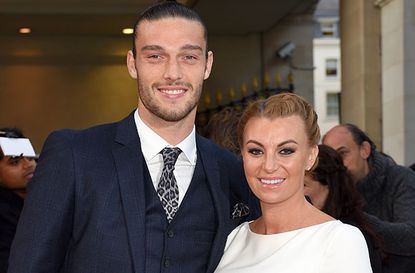 Former The Only Way Is Essex star Billi Mucklow appears to have confirmed the gender of her second baby.
Billi took to Instagram to share the update, posing in a blue and white striped bikini as she showed off her blossoming bump. She captioned the post: 'Blue for a...', leading many in the comments to speculate that she's expecting another baby boy.
The reality TV star already shares a one-year-old son, Arlo, with her husband-to-be, football star Andy Carroll.
Andy already has two children from a previous relationship, but this will only be Billi's second time being a mum.
The couple delighted their fans when they announced their pregnancy over Instagram back in May. The mum-of-one posted an adorable photo to Instagram to share her happy news, showing herself and her little boy on the beach on holiday.
In the image, Billi is sporting a peach bikini that shows off her discreet baby bump, whilst she holds son Arlo on her hip and places a hand on her tummy. Adorably, little Arlo does the same, and gazes down at her pregnant belly.
The 28-year-old star captioned her photo with some fun, baby related hashtags to make the news clear, 'Suns Out Bump Out 👶🏼🍼🐣🤰🏼💗💙#BabyCarrollOnTheWay #BabyOnBoard 😁😍'
The picture has been liked over 42k times in under a day, with fans rushing to offer their congratulations.
One Instagram user said, 'Oh that is lovely news congratulations x'.
Another social media user commented, 'Beautiful picture sweetie! So pleased for you and your lovely growing family😘' whilst another agreed, 'Bill!!!!! Such lovely news 😍 congratulations!!! 🙌🏼💫☺️'.
Billi and Andy enjoyed a whirlwind romance after they began dating in the summer of 2013 and announced their engagement the following year, in November 2014, after a mini-break in Rome.
Speaking previously about her wedding plans to the sportsman, Billi told OK!, 'I wanted to spend a few months enjoying Arlo as a baby before we started getting busy with wedding stuff.
'I definitely want a massive wedding, though.'
The pair welcomed son Arlo in June 2015, who will turn two this coming month.