Billie Faiers reveals the gender of her second child
'We can't stop smiling'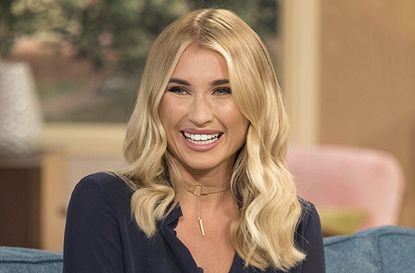 Reality TV star and soon to be second-time mum Billie Faiers has revealed the gender of her baby.
The Essex beauty has spoken exclusively to OK! magazine (opens in new tab) to unveil the sex of her new baby after finding out from her recent sonogram.
Billie and her fiancée Greg Shepherd are absolutely delighted to be expecting a baby boy, but have already said they won't be taking any name tips from sister Sam!
Billie is since pregnant with her THIRD child (opens in new tab).
The couple want to wait until they see their new baby before making any decisions, 'We want to see him first but we love traditional names like Edward and George.'
Billie added, 'I definitely won't be naming him "baby Greg" like Sam's baby Paul. We might make the middle name Gregory, but it won't be a first name.'
Billie is already mum to two-year-old Nellie, and was surprised at first to be having a brother for her little girl. She admitted that at her hospital appointment the nurse had to double check the sex, but of course both parents were thrilled.
'She checked a few times so it's definitely a boy. We can't stop smiling. Greg got quite emotional, but he's over the moon.'
Billie is now 22 weeks pregnant, and has been showing off her growing baby bump.
Posting a picture of herself in some black, lacy underwear, Billie admitted her pregnancy tummy had come out of nowhere, captioning the picture with a series of hashtags showing how far along she is.
She wrote alongside the snap 'Wow baby bump where have u come from 🙊🙊🙊 ... #halfwaythere #20weeks #excited #happysunday #babybump 😍'
Reaching nearly 80,000 likes, her 1.2 million followers were obviously thrilled to see how she's coming along, although reactions showed there were some questions about her size.
Many Instagram users joked that Billie's pregnancy body looked like a non-pregnant person, with one comment reading 'I don't even look that good now 😂' and another adding, 'this is literally just what I look like normally'.
Some followers commented that even though they are also pregnant, Billie seems to be much smaller, with one mum saying 'I'm double that size and only a week ahead of u with my second child' and another adding, 'We're both due on the same day and my bump is bloody huge compared this little bump!'.
The 26 year old, who appeared in ITV's The Only Way Is Essex for 17 seasons, is already mum to her little girl Nelly and took to Instagram to reveal the happy news of her second child back in September.
She shared a picture of herself and her fiancé Greg Shepherd with two-year-old Nelly, writing: 'And then there were four'.
A representative for Billie later confirmed the news to Mail Online, 'They are all extremely happy.'
Billie's fans were quick to congratulate her on the pregnancy, with one commenting: 'Awww such a beautiful photo congrats you guys' and another adding: 'Congratulations to all of you so happy for you all. Nelly is gonna be a great big sister. So much excitement'.
Speaking to Mail Online about her hopes to expand her family this year, Billie said: 'I always thought in my head that I'm always going to have girls but now that I've seen [Billie's sister] Samantha with Paul, I would actually love to have a boy as well.'
'It would be so nice to experience having one of each but on the flip side, it would be really nice for Nelly to have a sister as well because then it would be kind of like how Samantha and I were.'
'We desperately want a sibling for Nelly sooner rather than later. I feel like with Greg, it's so much more fun for him now that she is old enough that he can play with her and take her out.
'Nelly's such a daddy's girl but when she was a baby, Greg used to just sit there and cuddle her for a bit so I think women enjoy the newborn stage more. He just can't wait to have more children and have a bigger family.'
She added that the pair are planning a 2018 wedding, after the arrival of their second-born.