'I was terrified I wouldn't be able to have a family' Binky Felstead reveals cancer scare that left her in hospital
Binky Felstead has revealed on Loose Women that she had to have an operation to prevent a fatal cancer diagnosis after experiencing tummy pains when she was 23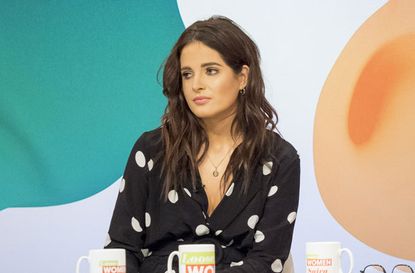 Binky Felstead revealed on Loose Women that she was 'terrified [she] wouldn't be able to have a family' after a cancer health scare that required her to have an operation.
Talking about the SmearForSmear campaign with the Loose Women hosts, Binky explained that it is very personal to her after her own experiences.
'I was complaining of a tummy pain and my mother who is so 'on it' said, 'Right we've got to get you tested'' she said.
But Binky explained she didn't 'have the smear test at the time'. When probed by the panellists about why, she explained she was only 23-years-old.
Unfortunately, the recommended age for receiving the test on the NHS in the UK is 25.
However because of her symptoms, she was given the test to find out what was wrong.
The Made in Chelsea star revealed that when she got the results, 'it came back with grade three, which is the highest level.'
This meant that the abnormal cells in her cervix were very susceptible to turn into cancer later on, so it was essential for her to have part of her cervix removed to prevent that from happening.
Another reason she was so scared was because the doctors at the time explained that by having the operation, while it was a necessary preventative measure for her, it could also could mean that she'd find it difficult to conceive in the future.
'I was terrified I wouldn't be able to have a family' said the mum-of-one, who is known to her friends, family and her fans as a very loving, maternal woman who had always wanted children.
Thankfully she now has seven-month-old India with her partner, Josh Patterson.
Binky went on to explain to the panel that while the whole ordeal was 'quite scary', her mum was with her every step of the way.
'I remember when [the doctors] were doing the small operation, I was holding my mum's hand the whole time and I was crying' she said.
But in hindsight, she'd never fear a smear test again.
'Looking back on it, it is quite a scary thing to go and do' she said.
'You don't know if you look the same as everyone else down there, [so] its quite intimidating.
'Obviously it's uncomfortable [but] health is so important' she added.