How do breasts changes during pregnancy?
Do you know how much your breasts might change when you're pregnant? Katie explains how to find the right bra at the different stages of your pregnancy...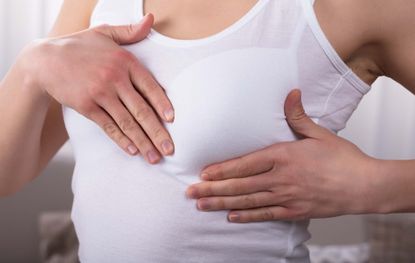 (Image credit: Getty Images/iStockphoto)
Nothing can quite prepare a person for how much their body changes during pregnancy, and your boobs is just one (well, two) of the things that will be affected!
Katie Brooker is a busy mother of two young girls with experience in finding the right bra for women during their pregnancy.
Here, she talks GoodtoKnow through the different stages your breasts go through when you're pregnant, and the best types of maternity bra (opens in new tab) you might find the most comfortable...
The female body is amazing! It can conceive, grow, birth and nurture another human being, and repeat.
Being pregnant, it's not only your belly that changes. There are changes to your entire body – everything is affected by pregnancy from your hair and skin to your mood and breasts.
Did you know that there are 5 main stages of breast changes and development during and after pregnancy? We recognise these as:
1. 1-3 months pregnant: Breasts usually increase in size quite rapidly. When this happens quite rapidly there can be soreness and tenderness. We recommend during this stage that a seamless and stretchy product is worn, mainly due to comfort. Some women will also feel like their nipples are very tender and their skin is itchy and tight. It's best not to let your skin dry out so twice daily moisturiser or body oil can help, as does the massaging that goes with it. A cotton lined bra is also recommended to ensure breathability and any skin irritation is lessened.
2. 4-8 months pregnant: A little more growth is possible, but typically your breasts will be the same size here throughout your pregnancy. Your ribcage however, will gradually increase depending on the position of your baby, hence the need for up to 6 rows of hook and eyes for your bra to ensure a secure underband. Exercise is important throughout your pregnancy and it's important to be well supported to avoid any ligament damage. We recommend that you can wear any bra you like during this stage, as long as the wires are flexible and you're fully encompassed – anything goes.
3. 8-9 months pregnant: Usually not much more growth in the breasts in the final stages as baby's development requires your energy. Women have sometimes noticed that their nipples are darker, their areola larger and occasionally have some discharge. This is commonly colostrum - it's completely normal, a thick yellow consistency and occurs more frequently towards the end of your pregnancy. If you're concerned at all about your breasts during any stage, it's best to ask your midwife.
4. 1-4 weeks post-birth: Get ready for some more growth! After your baby is born, your milk will come in. This is sometimes very painful so it's important to be ready for it. We recommend a soft and stretchy bra or tank for this stage, one that will grow with you. If you're comfortable and well supported during this stage of sometimes crazy growth (and not always even sided) then we believe the process of breastfeeding can be much more pleasant.
Just think that your breasts are now doing the job that your placenta was during pregnancy, so get ready for some change. Keep up the moisturisers, gentle massage and lukewarm showers.
Did you know: A lactating breast compared to a normal breast of the same size, can be up to 35% heavier?
5. 4 weeks post-birth and beyond: Your breasts will settle down in the coming weeks as your baby regulates its feeds. We believe in the benefits of breastfeeding for baby, the environment and mum, so have an assortment of all types of styles, sizes and trends as you are a woman first, and a mother second. Your breasts are quite amazing really, they know if your baby needs more fluids on a hot day and when to maximize milk production during those cluster feed stages. Mother Nature – I'm in awe.
Katie Brooker is a busy mother of two young girls and Head Designer at Cake Maternity (opens in new tab).
An integral part of Cake, Katie has an in-depth knowledge of bra design, fabrics, fabrication & manufacturing techniques.