Busted's Charlie Simpson and wife Anna Barnard expecting their second child
Busted's Charlie Simpson is going to be a dad again after revealing that his wife Anna Barnard is pregnant with their second child.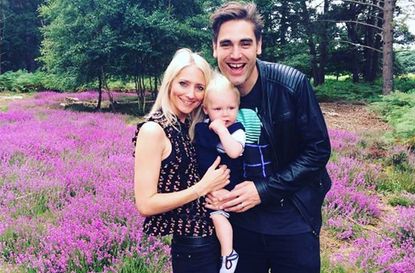 Busted's Charlie Simpson has announced that he's going to be a dad again, after revealing that his wife Anna Barnard is pregnant with their second child.
The couple, who revealed the news to the Metro, have said that they're 'super excited' to become parents again, having only just found out the news themselves. Charlie and Anna also said that they know the baby's gender, but will be 'keeping it a secret' until the birth.
Charlie told the Metro: 'I've just found out we're having a second! I'm super excited. We do know (the sex), but I want to keep it a secret. I haven't actually told anyone she is pregnant yet.'
Charlie has been outspoken about his family life in the past, even posting a sweet snap on Mother's Day where he described Anna as an 'amazing mum to our little boy'.
The Busted star already has a son, Arlo, aged two, who pops up occasionally on his Instagram feed to melt his fan's hearts.
On one recent snap, an Instagram user commented: 'Arlo has got such a cool daddy.' Another added: 'Just fallen in love even more.'
Charlie added that he has very supportive bandmates in Matt Willis, a father of three, and James Bourne, explaining that no matter how busy they are, family is a priority.
He told Metro: 'We all have an understanding. How we schedule our time, we keep in mind that we have to see the family.'
Bandmate Matt previously admitted that while being in a touring band is the best job in the world, being away from his three children is the hardest part.
He told The Sun: 'I think everything's different when you have a kid. Working is a little bit harder because when you're away that's the down side of being in a band – that you have you have some time away from your family.
'But that's just our job and we get to do something really cool for a living, which is awesome but then we go home.'
Busted reformed last year after 10 years apart, to form supergroup McBusted with McFly. It's been a busy year for Busted, with an extensive 21-date tour around the UK and Ireland. Their first album for 12 years, Night Driver, is out now.