We earn a commission for products purchased through some links in this article.
A former cancer nurse is making Disney princess wigs for little girls who are battling chemotherapy.
The Magic Yarn Project, set up by Bree Hitchcock and Holly Christensen from Alaska, USA, has raised over £9,000 in less than four weeks.
The caring duo design the crochet wigs for 'little warriors bravely battling cancer' who are unable to wear traditional wigs because their scalps are too sensitive from the treatment.
On their Facebook page, which has gained over 3,000 likes, they explain why they decided to start their business after Holly made a wig for a friend's child who was ill.
Bree said; 'There is hardly a person today whose life has not been affected by cancer whether personally fighting it or watching loved ones fight it.'
'While not the most severe of side effects, hair loss can still be very difficult for cancer patients, especially little girls.'
The crochet material was specifically chosen, as it is soft and wearable, as well as beautiful and 'giggle-inducing' for the little princesses who dress up as characters from the films Frozen and Rapunzel.
Image:Facebook/magicyarnwigs
Bree and Holly are over half way towards their goal of raising £15,000 on crowd funding website, Go Fund Me.
The finances raised will go towards starting a non-profit organisation and growing the Magic Yarn project to keep up with demand for providing 'a magical escape from a child's post-chemo world.'
Since the story has gone viral they have received messages of support from Ohio to Mexico requesting the wigs for suffering children.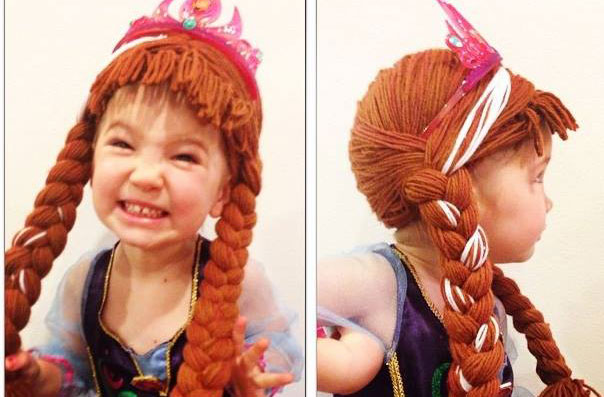 Image:Facebook/magicyarnwigs
One commenter wrote; 'What a beautiful gift you are giving these families. Thank you for putting magic into the lives of people who need it.'
The pair responded; 'Our hearts are overflowing from your support, and from the bittersweet contact by families whose lives are touched by cancer.'
To read more about the project, please visit Go Fund Me.