We earn a commission for products purchased through some links in this article.
Prince George will be having an exciting festive season this year, as grandmother Carole reveals what she has in store for her grandson.
Kate's mum has explained how she's planning to entertain her royal grandson during the holidays within a article for Homemaker magazine.
Carole, 60, will be getting crafty with George by sewing a Christmas garland, which she says 'is a great family activity as it's perfect for young helpers to personalise.'
As well as crafting, the little royal can also expect some festive baking this year. Grandma Carole says in her article 'all children love to bake' and cupcakes seem to be the treat of choice.
Writing about how she gets ready for the party season, Carole says Christmas is a wonderful time of the year and wrote: 'We're all busy planning festive parties and get-togethers, but taking time to choose and make those all-important festive touches is a must.'
The Party Pieces creator also suggested a Nutcracker calendar, which becomes a charm bracelet, as a great way to entertain children in the run-up to Christmas.
'This is such a brilliant twist. Each tiny draw is filled with a delicate charm that together make up a charm bracelet. Make sure you keep the trinket box for decoration; it's a beautiful keepsake', George's grandmother wrote.
Prince George and Carole Middleton at Princess Charlotte's christening in July
This will be the third Christmas for the little royal, who was born in July 2013. Last year the prince, who's third in line to the throne, skipped the traditional royal service at Mary Magdalene Church because his parents thought it was too cold for him.
In 2013, his first Christmas, the Queen spoke of how George's arrival brought 'happiness and hope' to the royal family.
'As so many of you will know, the arrival of a baby gives everyone the chance to contemplate the future with renewed happiness and hope. For the new parents, life will never be quite the same again.'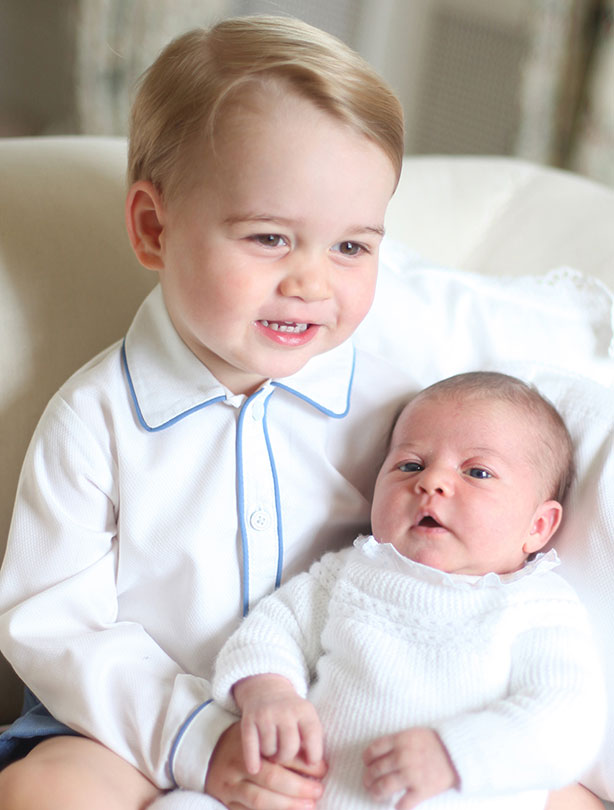 Prince George and Princess Charlotte's first official pictures taken by their mother
While Prince George can expect a busy festive season ahead, his little sister Princess Charlotte is more than likely to sit out the crafting and baking this year as she'll only be seven months old when Christmas comes. Maybe next year!