Newsreader Charlene White opens up about going through her first pregnancy without her mum
'For those who've been asking - yep, I'm pregnant'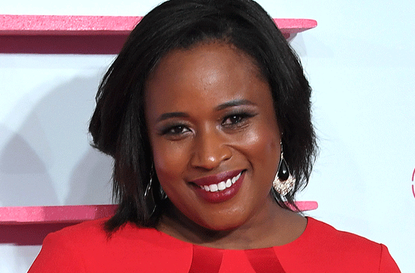 ITV newsreader Charlene White has confirmed that she's expecting - and revealed how emotional she's found going through the process without her own mother, who passed away when she was 21.
Charlene announced her pregnancy on Twitter, along with a link to a piece she'd written for The Guardian in honour of Mother's Day.
'For those who've been asking - yep, I'm pregnant. So for Mother's Day, a piece about going through it without a mum,' she wrote alongside.
In the feature, the 36-year-old opened up about the loss of her mother, explaining that whilst she and partner Andy were thrilled about their new arrival, going through the experience without the support of her mum had made it a bittersweet time.
'When I realised there was a whole other person inside me, I was sitting on this beautiful fluffy cloud of tranquillity. Telling our families was our favourite bit, their joy and relief (we're both nearly 40: there is a chance they had given up on us) that we were creating a new person together was brilliant. It just made everybody so bloody happy,' she detailed in the piece.
'But, after a few weeks, the fear kicked in. Although we made the child together, it hit me that I was essentially the sole person responsible for its wellbeing. Me. And the thought of that responsibility just enveloped me. That happy cloud became something I suddenly feared.'
'At that moment, curled up in the bath one morning before work, the fear turned to tears, the crying turned to wailing, and the sound bouncing off the walls was the sound of me missing the one person I needed and wanted for the next nine months. My mum.'
Adding that when her mum passed away, she had been too young to think about asking for advice about raising her own children, Charlene
'I've had no nausea, sickness or cravings … I worried that it meant my pregnancy wasn't normal, that something was wrong with the baby. The doctor telling me it was all fine didn't really help, but if I knew that Mum had been the same – that would have calmed me. Then there's the constant fear of failing. Yes, people say this is totally normal … but I wanted my mum to tell me that – I wanted her to tell me that everything I was thinking and feeling was normal. She was the only person in the world who could allay those fears. But she's not here, and that also added to the pain.'
Charlene says that she wishes her mother would be around in particular for the early days of her child's life: 'In Caribbean culture, the mum is around a lot in the early days of the baby being born, cooking Jamaican "hard food" almost round the clock to ensure you're eating properly – passing on old wives' tales for getting babies to sleep, or preparing old-school remedies to make them better when they are ill. Tidying, cleaning, teaching, guiding. They can basically end up moving in for a couple of weeks. So my pain is tinged with anger … that I will never really know what that's like.'
However, she goes on to list the people that she's thankful to still have in her life, including her partner, his family, her 'army of girlfriends' and her little sister, who became a mum seven years ago and is 'preparing me for motherhood'.
Charlene's article was met with a heartfelt response from her 20,000 Twitter followers, with many empathising about the loss of their own parents.
'Beautiful piece by @CharleneWhite, on preparing to be a motherless mother. Mothers' Day tough for many. Thinking of those who find it hard,' one wrote, whilst another agreed: 'Such a beautiful piece. Thank you for sharing your joy and sorrow. Congratulations on the baby, your Mum is cheering you on.'
Trusted, informative, and empathetic – GoodTo is the ultimate online destination for mums. Established in 2007, our 15-year-strong archive of content includes more than 18,000 articles, 1,500 how-to videos, and 7,000 recipes.