What are the Covid-19 symptoms to look out for in kids?
Worried that your kids might have the symptoms of Covid 19? Find out what they are and when to seek medical advice for your child.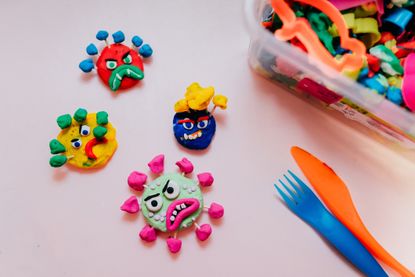 (Image credit: Getty Images)
Recognising Covid symptoms in kids is more important than ever before, as millions returned to school after lockdown (opens in new tab) in early March.
Children will have a lateral flow test (opens in new tab) twice-weekly following their return and all secondary school pupils will have to wear a mask (opens in new tab) in the classroom. Despite the plan to keep schools open, ministers have warned that infections are still more than likely in schools.
Covid-19 doesn't tend to seriously affect younger people but they can still experience some of the worst long-Covid symptoms and be a vector for transmission onto more vulnerable people.
Knowing the symptoms of Covid in kids is essential in not only helping to keep infection levels down in schools but in the community as well.
What are symptoms of Covid-19 in kids?
The symptoms of Covid-19 in children are much the same as in adults, so it's easy to know what to look out for.
Symptoms of Covid-19 in kids include:
A high temperature
A new, continuous cough. This means coughing a lot, for more than an hour, or three or more coughing episodes in 24 hours.
A loss or change to sense of smell or taste. This means they cannot smell or taste anything, or things smell or taste different to normal.
The Centers for Disease Control (CDC) in the US also recommends (opens in new tab) looking out for other symptoms, including a sore throat, diarrhoea, vomiting or a stomach ache. The onset of a severe headache, especially combined with a fever, and muscle or body aches could also be symptoms of coronavirus in children.
If you're worried about your child or not sure what to do, get advice from the NHS. If the child is five years old and over, you can use the NHS 111 online coronavirus service. If they are under five years old, call 111 as standard.
Many children present as asymptomatic (opens in new tab) with coronavirus, however, so if you suspect for any reason they could have the virus, it's vital to self-isolate.
But the NHS advises that you should seek medical help immediately via the 111 service (for children over 5 years old) or contact your GP surgery if your child:
Is under three months old and has a temperature of 38C or higher
Is three to six months old and has a temperature of 39C or higher
Has other signs of illness like a rash, as well as a high temperature
Has a high temperature that's lasted for 5 days or more
Does not want to eat, or is not their usual self and you are worried
Has a high temperature that does not come down with paracetamol
Is dehydrated (i.e. nappies are not very wet, they have sunken eyes and don't cry tears)
While these aren't necessarily the symptoms of Covid-19, they are similar to the ones that children show when they have the virus.
There are more serious issues to look out for when you're checking your child for symptoms of coronavirus, however. If you find any of these, it's vital that you call 999 immediately for medical help as they could be suffering with something more dangerous, such as meningitis.
When to call 999:
Child has a stiff neck
They have a rash that does not fade when you press a glass against it
They are bothered by light
The child has a seizure or fit for the first time (they cannot stop shaking)
They have unusually cold hands and feet
They have pale, blotchy, blue or grey skin
They have a weak, high-pitched cry that's not like their usual cry
Child is drowsy and hard to wake
Child is extremely agitated (does not stop crying) or is confused
They find it hard to breathe and sucks their stomach in under their ribs
They a soft spot on their head that curves outwards
They are not responding like they usually do, or not interested in feeding or usual activities
What about the rash associated with coronavirus in kids?
At the beginning of the outbreak, medical professionals issued an urgent alert about a supposedly coronavirus-related rash in children. Some believe this rash is a symptom of a worrying inflammatory syndrome, similar to Kawasaki disease which affects 8 in 10,000 children every year, but it does not have identical symptoms.
Experts believe that the inflammatory disease is likely a reaction of the body to either a current or past coronavirus infection but they are not entirely sure, as many of those children who contracted the infection later tested negative for Covid despite having symptoms.
While this inflammatory disease is notably rare with 100 cases in 12.7 million children, it is serious and the rash could be a symptom of the condition. Other things to look out for, indicating that the rash is a symptom of the inflammatory disease include a prolonged fever, conjunctivitis, stomach ache, vomiting and/or diarrhoea, swollen or enlarged lymph nodes, swollen hands and/or feet and an unusual sleepiness.
Speaking to Channel 4 News, Dr Liz Whittaker from the Royal College of Paediatrics and Child Health said, "We would encourage any parent who's worried about their child to take them to either their GP or to A&E if they're worried, because it's more likely they're unwell with another condition, rather than this inflammatory condition."
It has since been reported that a rash could be more related to coronavirus than previously thought, with some researchers arguing that it could be a "key diagnostic sign" of Covid-19. Researchers from the Covid Symptom Study (opens in new tab) surveyed 12,000 people who had skin rashes as well as suspected symptoms of coronavirus. They found that eight per cent of people who tested positive for the virus in the study also had some form of rash, with one in five people reporting that the rash was the first symptom of the virus they had. Almost a quarter also said that the rash was the only symptom they had.
So while the NHS currently still lists the three major symptoms as ones to look out for, it's important to consider any abnormal rashes in children as potentially symptoms of Covid-19. If you suspect that your child may have symptoms of Covid 19, it's essential that you follow government and NHS advice on self-isolating, washing your hands and seeking medical help.
What about Long Covid in children?
Long Covid is a condition that's been characterised as having symptoms of coronavirus, including fatigue, headaches and gastrointestinal issues, for at least four weeks after infection. Some people suffering with Long Covid may experience these for months on end though with no explanation for why the condition is ongoing.
https://www.youtube.com/watch?v=RiIambG8vs0&t=4s
At the moment, ONS data predicts (opens in new tab) that one in seven secondary school pupils who have tested positive for Covid-19 experience symptoms after five weeks. One in eight students under 12 are still experiencing symptoms after five weeks. However, campaigners have said that the official figures aren't anywhere near the reality of the situation, as they only look at those who officially tested positive.
If you're concerned that your child might be suffering with Long Covid, make a visit to the GP. They will be able to access their symptoms, diagnose the problem and suggest any possible treatment.
When should you take a child to be tested for coronavirus?
Laid out in the letter, published in late September, the government officials said that parents and guardians should only book a test if the child has any of the major coronavirus symptoms. Listed as: a high temperature, a new continuous cough, a loss of or change in the sense of smell or taste, they've said that children do not need a test if they just have a runny nose, are sneezing or are feeling ill. These point to the common cold or flu instead.
If your child does have symptoms, however, it's important to have them tested. But the letter stresses that only the child (or other household member) with symptoms should be tested, while all other members of the household self-isolate and wait for the results. If the test comes back positive, then the household should continue self-isolating for 14 days and the child should be kept home from school, with the school's knowledge and online learning should take place where possible.
The letter also notes that if a child in a class or 'bubble' tests positive for coronavirus and the bubble is taken out of school, anyone in the class who doesn't have symptoms is not required to get a test but they do need to self-isolate.