Chrissy Teigen and John Legend announce they've welcomed their second baby
It's a baby boy!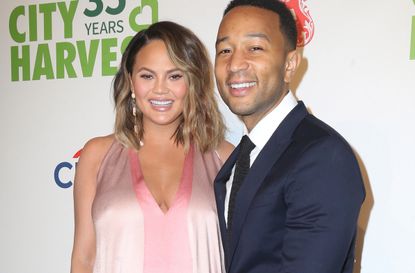 Chrissy Teigen and John Legend have announced they've welcomed their second child.
The model and TV presenter revealed on social media that her baby boy had arrived, simply tweeting on Wednesday: 'Somebody's herrrrrrre!' followed by a series of bottle and happy face emojis.
Singer John retweeted his wife but the couple offered up no other details about their family's newest member.
Lucky for Chrissy, the little boy decided to arrive early as her due date was not until June and it was only a week ago that she declared she was 'over' being pregnant.
Venting her frustration on Twitter while admitting she was desperate to hold her son, especially since she revealed she has known since day 11 that she was pregnant after undergoing IVF treatment, she tweeted: 'Happy pregnant Chrissy is gone. meet OVER IT Chrissy. Wanna hold my boy let's do thisssssss… It feels worse for me because with IVF you know *so* early. I mean I knew I was pregnant at 11 days in. Crazy.'
Back in November, Chrissy - who already shares two-year-old daughter Luna with husband John - announced that the couple was expecting another baby. She captioned the announcement video: 'It's John's!'
'Luna, what's in here?' the new mum is heard saying in the background of the clip, with Luna pointing at her mum's stomach and excitedly proclaiming: 'Baby!'
The 32-year-old - who married the All of Me hitmaker in 2013 - previously defended the couple's decision to have a child via IVF again.
Addressing criticism on Twitter, she wrote: 'Since this is coming up again, I said our next baby would be a boy because that is the embryo we have left. A boy. So. Yeah.'
While the couple are thrilled to welcome their new baby, John previously revealed that he and Chrissy are concerned about how well Luna will adapt to having a sibling.
He told People: 'Luna's gonna be an issue. I think she'll probably have some growing pains because she's currently running the house right now. She's used to being the centre of everything right now so we'll see how she adjusts to sharing the spotlight.'
A Freelance Writer and Content Editor, Jenni has been working on the women's lifestyle team at TI-Media on and off for over three years. She writes about your favourite celebrities and TV shows so you never miss an update. Jenni also writes beauty news and features - so for all of your skincare and make-up needs, drop her a line.