Chrissy Teigen talks post-baby boobs in sweet Insta snap with baby Esti - and we totally get it
Mom-of-three not worried about 'boob that hangs'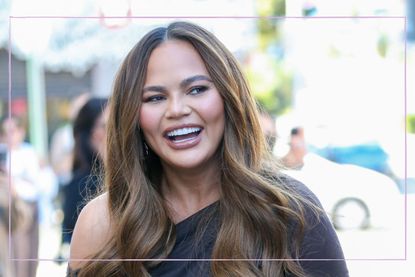 (Image credit: Getty Images / Future)
Chrissy Teigen always speaks the truth about life as a mom and all that means for mind, body, and soul. And her latest Instagram post is no different.
Most moms know the toll growing and birthing a baby can have on a body, especially if breastfeeding so when Chrissy talks about a 'boob that hangs' in her caption, the 1.6 million likes shows just how relatable it is. The 37-year-old mom of three took to Instagram to share a candid shot with her 41 million Instagram followers of herself smiling down at her three-month-old baby girl as they take a bath together.
The caption reads; "A boob that somehow hangs all along my side and deep purple lifetime scars but you are too perfect to worry about any of it !" she captioned the candid photo, referring to her baby girl.

And her 41 million followers responded to the moving and vulnerable message, with some pointing out that many bodies change after giving birth. "Our changing bodies remind us of the life we created. It reminds us of all we have," one Instagram user wrote with the heart eyes emoji.
Another wrote, "'Life scars' of a beautiful woman and mother. It's proof that we are strong and brave and good! Wear them all proudly." While actress Keegan Tracy commented: "Thank you for being brave (though it shouldn't be brave) enough to post suck real photos. I think there's a dysmorphia that is happening because everything is so filtered and contrived. This is just what people look like when we take down the veil. There is beauty in real. And in knowing that we sacrifice to make these beautiful little people. Our bodies are meant to be lived in! "
Shortly after Esti's birth, Teigen went back to her beloved candour on social media, sharing a postpartum photo holding baby Esti while having a dose of reality around the Grammy Awards night, she captioned it; "happy grammy day!! had a dress fitting, looked around and realized ….what the hell am I trying to prove here. I cannot get up lol"
Chrissy and her husband John Legend, 44, welcomed Esti, their 'rainbow baby' in January after Chrissy suffered a miscarriage, losing their baby son Jack. Esti is little sister to Miles Theodore, 4½ years old, and Luna Simone, 7 years old.
Chrissy spoke with People in March after giving birth to Esti, her third child. She said; "It's easy confidence-wise, and honestly, a lot of the time, confidence is everything with it,' Teigen said. 'You're just not so on edge and worried, and you're also not worried about what other people have to say as much."
She added that in welcoming her third child, she doesn't take 'parenting advice from everybody like before,' adding, "I do not accept being shamed about anything. A lot of people think that they're experts on everything, but when you have three of something like that, you know... I mean, we've seen everything happen. We've dealt with the stitches. We've had a toe almost come off. We've had broken bones. We've seen it all. It's fine."
Related features:
Video of the Week:
Stephanie Lowe is Family Editor at GoodTo covering all things parenting, pregnancy and more. She has over 13 years' experience as a digital journalist with a wealth of knowledge and experience when it comes to all things family and lifestyle. Stephanie lives in Kent with her husband and son, Ted. With his love of choo-choos, Hey Duggee and finger painting he keeps her on her toes.