Coleen Nolan reveals she suffered a miscarriage when she was married to Shane Richie
Mum-of-three Coleen Nolan recalls the 'brutal' experience of having a miscarriage during her marriage to Shane Richie.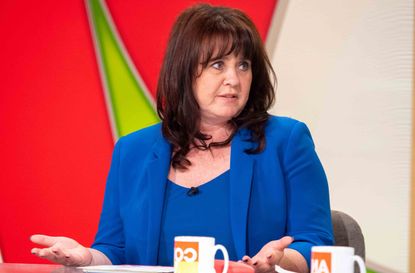 Loose Women panellist Coleen Nolan has opened up about the 'brutal' experience of having a miscarriage during her marriage to actor Shane Richie.
Mum-of-three Coleen Nolan has revealed that she had a miscarriage when she was married to actor Shane Richie.
On yesterday's show (26 April) Coleen opened up about the 'brutal' experience and said that it happened during one of the couple's most rocky patches of their marriage.
Speaking to her fellow panelists Nadia Sawalha, Andrea McLean and Jane Moore, Coleen said: 'It was a really bad time for me and Shane because everything was starting and I was like "I could really do without this right now".'
The miscarriage took place four or five weeks into the pregnancy and was at a time when speculations of Shane's infidelity were intensifying.
Coleen continued: 'Now obviously there was an element of "Ah" because the decision was taken out of my hands but I had to get the doctor around.
'Obviously he knows nothing about me. But he walked in, took a look at me and he said "Yes, yes, you've lost the baby - go to the doctors tomorrow to get a scrape" and walked out of my house.'
Coleen added: 'I mean, it was brutal.' The mum-of-three's co-presenters were clearly touched by Coleen's honesty and so were viewers at home.
One person tweeted: 'It's so moving hearing others experiences 🙏🙏🙏🙏'.
Another added: 'Hats off to @loosewomen for discussing the topic of miscarriage so brilliantly.'
Others were outraged at the star's admission that she felt almost relieved to have lost the baby during such a bad time in her marriage.
One person said: 'Disgusted with what Coleen said! How dare her say she was "relived " to miscarry, I don't care what situation you were in! YOU NEVER say that! So angry!! 😡😡'.
Coleen said that she didn't suffer too much trauma from the experience due to its timing. She said: 'Luckily I was at the stage where it wasn't a major traumatic time really because the timing of it was wrong, but can you imagine a woman that has tried and tried or desperately wanted that baby?
'And I do think it's something you have to be so careful about.'
Coleen and Shane were married for nine years, from 1990 until they split in 1999. The couple have two sons together - 29-year-old Shane and 25-year-old Jake.
For advice and support with miscarriage you can go to www.nhs.uk/conditions/miscarriage or speak to your GP.
Jessica currently works as a Senior Food Writer at Future. She writes food and drink-related news stories and features, curates product pages, tests, and reviews equipment, and also develops recipes that she styles on food shoots. An enthusiastic, self-taught cook Jess adores eating out and sharing great food and drink with friends and family. She has completed the Level 1 Associate course at the Academy of Cheese and is continually building on her knowledge of beers, wines, and spirits.