Actress Cynthia Nixon reveals how proud she is of transgender son
Cynthia Nixon posted the sweet picture praising her transgender son on #TransDayofAction.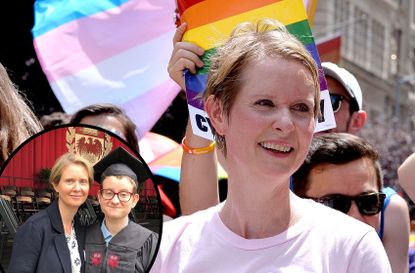 Cynthia Nixon took to Instagram to praise her transgender son following his graduation last month and marking #TransDayofAction.
The mum-of-three captioned a picture of her and Samuel Joseph Mozes (called Seph and formally known as Samantha): 'I'm so proud of my son Samuel Joseph Mozes who graduated college this month,' the 52-year-old actor captioned the photo. 'I salute him and everyone else marking today's #TransDayOfAction.'
Trans Day of Action has been running for 14 years now and takes place on 22 June.
Famous for her role as Miranda Hobbes in Sex in the City, Cynthia now dedicates a lot of time to campaigning for LGBTQ+ issues and rights.
She was awarded the Human Rights Campaign's Visibility Award in February 2018.
Cynthia's former partner Danny Mozes is 21-year-old Seph's father. The couple also have another son, 15-year-old Charles.
Cynthia now identifies as bi-sexual and is married to her wife Christine Marinoni. The couple have a seven-year-old son called Max.
People have been very supportive and praised Cynthia for not only raising awareness, but for being a kind, supportive, caring parent.
One person wrote: 'Am kinda late, but congratulations on your graduation, look at the look of pride on your mother😅🤓 #proudfamily #educationtograduation #proudmama'.
Another said: 'Congrats to @cynthiaenixon and your smart son!!!'
A third added: 'Bravo Seph!! Congrats and good luck in running for gov Cynthia! 💕💕🙌🏻'.
Cynthia is currently up against the New York Governor Andrew Cuomo for the Democratic candidacy.
She uses her social media to support and champion the LGBTQ+ community and she has recently posted lots of pictures and videos from the Pride celebration in New York.
In a post from three days ago Cynthia explained: 'In 2010, I helped set up Fight Back New York, an effort to defeat New York State Senators who were opposed to same-sex marriage. The campaign ultimately raised $800,000 and helped elect three new senators who voted to pass marriage equality. Soon after, I married my wife Christine. And today, I am fighting to become the first queer governor of New York. #pride'.
The mum-of-three holds the causes of the LGBTQ+ community close to her heart and is clearly proud to be a part of it.
Jessica currently works as a Senior Food Writer at Future. She writes food and drink-related news stories and features, curates product pages, tests, and reviews equipment, and also develops recipes that she styles on food shoots. An enthusiastic, self-taught cook Jess adores eating out and sharing great food and drink with friends and family. She has completed the Level 1 Associate course at the Academy of Cheese and is continually building on her knowledge of beers, wines, and spirits.