Dads defend Daniel Craig after Piers Morgan shamed him for carrying baby daughter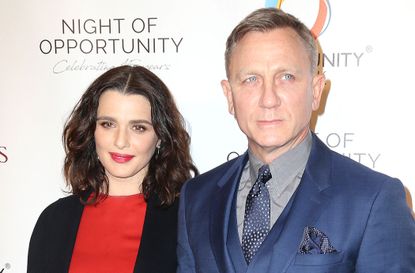 (Image credit: Rex)
Dads are defending Daniel Craig after he was mocked by TV presenter Piers Morgan for holding his baby in a baby carrier.
The controversial journalist took to his Twitter page to express his feelings about the legendary '007' carrying around his baby daughter in a papoose baby carrier (opens in new tab).
Alongside an image of the James Bond actor supporting his child on a daytime outing, Piers wrote a caption saying: 'Oh 007.. not you as well?!!! #papoose #emasculatedBond'.
However, many dads came out in Daniel Craig's defence, flooding the post with furious responses.
One posted an image of himself wearing a baby carrier holding his daughter, writing: 'There's me carrying my youngest daughter, in the 7 years since this photo I've had my nails painted, hair done, been a patient at their dentist and worked in their kitchen more times than I can remember. Might not be manly, but it's fun and I wouldn't change anything.'
While others commented with more humorous responses, making fun of the GMB host through a series of memes and gifs, or posting with images of themselves holding their children in baby carriers with captions including 'Do you even lift bro', 'I'm just delighted we have the same sling as 007' and 'The names bond....father daughter bond'.
One dad posted an image of him multitasking with his baby strapped to him in a carrier a fish in each hand, writing: 'Baby girl + 2 fish #papoose #papooseproud'.
The tweet has even made ripples around Hollywood, with Captain America actor Chris Evans hitting back at the TV host tweeting: 'You really have to be so uncertain of your own masculinity to concern yourself with how another man carries his child. Any man who wastes time quantifying masculinity is terrified on the inside.'
Piers later tried to explain his comment, writing: 'He's not carrying it, that's my point. He's using an emasculating papoose. James Bond would never use a papoose to carry his babies.'
The new James Bond film is set to be released in October 2021, with some thinking about when No Time To Die will be available to stream (opens in new tab) in the UK.
What do you think of Piers Morgan's comments? Head over to our Facebook page and let us know your thoughts!
Aleesha Badkar is a lifestyle writer who specialises in health, beauty - and the royals. After completing her MA in Magazine Journalism at the City, the University of London in 2017, she interned at Women's Health, Stylist, and Harper's Bazaar, creating features and news pieces on health, beauty, and fitness, wellbeing, and food. She loves to practice what she preaches in her everyday life with copious amounts of herbal tea, Pilates, and hyaluronic acid.