11 of the best baby carriers 2022 including BabyBjörn, Ergobaby, Cybex and Nuna
Looking to buy your little one a carrier so you can ditch the pushchair every now and then? We're here to help make that all-important purchase much easier...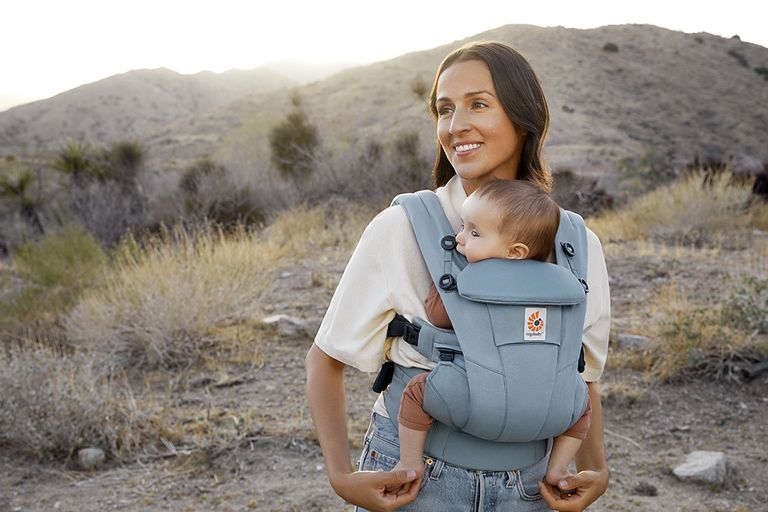 (Image credit: Ergobaby)
The best baby carriers are stylish, easy to clean, and, above all, safe and simple to use for carrying your baby. Sometimes called 'babywearing', using a baby carrier has important benefits as well as freeing up your hands - it can help to promote bonding and strengthen the attachment between you and your baby.
But the choices are endless when it comes to working out which are the best baby carriers and slings, and which one will be right for you. So we assembled our panel of parent testers (opens in new tab) and asked them to put our pick of the best baby carriers to the test. Their feedback and in-depth reviews in this buying guide will help you find the best baby carriers to suit your baby - and your budget.
If you're investing in a carrier for holiday use or have plans to travel with your baby, you might also be interested in our best travel strollers (opens in new tab) guide. And do take a peek at our roundup of the best best travel cots (opens in new tab) too.
Our parent testers tried out these market-leading and award-winning baby carriers over a period of several weeks – that's hours and hours of testing in all kinds of weather – with babies from as young as two months old all the way up to toddlers aged just over a year old.
Best baby carriers 2022
Our pick of the best baby carrier overall is the Cybex Yema baby carrier. It's super elegant and stylishly designed but oh-so practical. It's also much less bulky than other baby carriers and incredibly easy to put on and take off - a major bonus for a busy mum. Our parent tester found the Cybex Yema supremely comfortable to wear and says she loves how good it looks.
Cybex Yema
Best buy - a stylish hybrid carrier that's adjustable and super comfortable
Specifications
Weighs: 0.7kg
Age range: Birth – approx. 2 years (3.5 – 15 kg)
Reasons to buy
+
Exceptionally comfy
+
Versatile – can be worn several ways
+
Storage bag included
Reasons to avoid
-
Expensive (but worth it)
-
Wearing takes practice
If you like baby gear that's designed with practicality in mind but still stylish, the Cybex Yema is one of the best baby carriers you could choose. It's as elegant as it is versatile.
And if you're not sure whether you want a buckle carrier or a wrap-style sling, this is a good compromise because it's a mix of the two styles, known as a hybrid carrier.
It offers three different carrying positions: on your front facing your chest, on your hip carry, and on your back. It's highly adjustable, so it will accommodate your baby's changing weight and size as they grow. It's made from 100% cotton and is machine washable - very handy -plus it comes with its own storage bag, making it a really good choice for travel use.
Our tester's favourite feature of the Cybex Yema is the fact that it's far less bulky than other baby carriers. Some baby carriers can make wearing a coat or jacket impossible, but our tester was able to pop this baby carrier on under a large coat whilst out walking her dog. 'I also really like that it goes with all my outfits... well, my legging and hoodie combos,' adds Carly Hobbs, who put the Cybex Yema baby carrier to the test with her three-month-old baby, Dex.
Initially, Carly wasn't a fan of wrap-style carriers, finding they felt less secure than more structured buckle carriers. However, she found this really secure and exceptionally comfortable to wear. 'It fastens like a wrap-style carrier but has hidden support,' she says. 'With other wrap carriers I've always felt I couldn't let go of Dex, but with this one, I could walk the dog and even chase after my toddler without Dex getting too jiggled around.'
The Cybex Yema is the perfect blend of practicality and style, making it easily worthy of the top spot as our best baby carrier overall.
2. Nuna Cudl Baby Carrier
Best premium baby carrier - a highly versatile ergonomic baby carrier
Reasons to buy
+
Extremely soft and comfortable
+
Suitable from birth to three years
+
Machine washable
Reasons to avoid
-
Costlier than similar carriers
-
Limited colours / patterns
-
Adjusting it takes practice
This is a comfortable and adjustable baby carrier, with four different carrying options. You can carry your child on your front (either facing outwards or facing you) until your little one is 18 months old. You can also use it as a back carrier for older babies and toddlers up to the age of 36 months.
Made from breathable, machine-washable fabric, this carrier has softly padded shoulder and waist straps and is designed to ensure that your baby is held in the safest ergonomic position, whichever way you use it.
Our parent tester, Sarah McCarron, put it to the test with her baby daughter, Caitlin, aged 13 months. She found it highly comfortable compared to other carriers – the most comfortable carrier she has tried. 'The first thing I noticed when trying it on was that it was incredibly soft, supportive, and comfortable to wear,' she says. 'The fabric is really breathable and I like the simple colour scheme. My one-year-old particularly seemed to enjoy being carried in the forward-facing position.'
Our favourite feature – the magnetic buckles – make this carrier really easy to put on. Yes, even if you're in a hurry and don't have another pair of hands to help. From the fabric quality to the fact that there are four carrying positions – not to mention how comfy it is to wear – this adaptable carrier easily earns our vote as the best premium baby carrier.
3. Chicco ComfyFit Baby Carrier
Best budget baby carrier - a good value, easy-to-use hybrid carrier
Specifications
Weighs: 0.5kg
Age range: 3.5-15kg
Reasons to buy
+
Straightforward to use
+
Easy to position baby correctly
+
Comfortable to wear
Reasons to avoid
-
Not suitable for back carrying
This hybrid carrier combines the key elements of a structured carrier and a wrap-style sling. The design ensures the baby's legs are in the hip-healthy 'M' position and its spine is in the 'C' curve. It can be used from 0+ months in the inward-facing position or from 6+ months in the forward-facing position. It is easy to put on and has an adjustable waist belt with a useful sotrage pocket. The carrier folds into a handy storage pouch and is machine washable.
Our parent reviewer Emily-Ann Elliott tested this carrier with her son Ted, aged eight months. 'This baby carrier is really easy to use, thanks to the three-step 'Click, Strap, Tie' technique,' she says. 'You just click on the belt, put a strap over each shoulder, and cross them at the back, before tying the material at your side. Both straps have labels telling you which shoulder they go on, which makes it impossible to muddle up putting it on. It's actually one of the easiest slings I've used.'
Because of its structured style, Emily-Ann felt her baby was especially secure in this carrier. The soft fabric made for a cosy experience, too. 'The design is inspired by yoga apparel, which means the fabric is lightweight and it feels very flexible, she adds. 'It's a stylish carrier that felt comfortable to wear. And I really like that it's machine washable, so it's easy to clean after inevitable little accidents.'
Baby carriers can be bulky to lug around but another standout feature of this one is the fact that you can pack it away neatly into its storage pouch. That's a helpful feature for busy parents, whether you're adding the carrier to your holiday packing or thinking about carrying this around with you day-to-day.
'I'd recommend this to a friend who likes the idea of a stretchy sling, but isn't confident in tying one themselves,' concludes Emily-Ann. 'The fact that it cannot be used to carry the baby on your back is a downside for me, but overall I think it's easy to use, comfortable, and good value for money.'
4. Ergobaby Omni Dream
A versatile, ergonomic carrier that's easy to adjust and comes with a lifetime guarantee.
Specifications
Weighs: 0.7kg
Age range: 0-4yrs (7lbs-45lbs / 3.2kg-20kg)
Reasons to buy
+
Supersoft fabric
+
Clear instructions attached
+
Comfy, well-padded straps
Reasons to avoid
-
Non-detachable privacy hood
-
Tricky to fasten without help
-
Expensive
If your budget can stretch this far, the Ergobaby Omni Dream is one of the best baby carriers you can buy. Yes, it's expensive. But you can use it from birth right up until your little one is four years old, and each carrier comes with a lifetime guarantee.
Founded in 2003, Ergobaby is known for stylish but robust, ergonomic baby gear (including baby carriers, strollers, and nursing pillows) that encourage bonding between parent and child. Clothing designer Karin Frost launched the brand after struggling to find a baby carrier that she liked and her original design has influenced the safety standards by which all carriers are made.
Adjusting a baby carrier from one position to another can be a faff but that's not a problem with the Ergobaby Omni Dream baby carrier. It's easy to adjust to suit different-sized wearers. It's also a doddle to switch your baby from inward to outward facing - and back again. The carrier has a deep 'bucket' seat plus a head and neck pillow to support your baby. Reflective stripes offer extra safety for night-time babywearing, and there are side pockets and a removable pouch for storing essentials. A tuck-away hood offers protection from the elements and gives breastfeeding parents privacy if required.
Our parent reviewer, Grace, put it to the test with her seven-week-old daughter. 'Naturally, the carrier isn't an item you can set up once and then never have to adjust again,' she says. 'However, it's as easy to adjust as it could possibly be, and I'm not concerned that pieces are going to snap off or fray when I do so.'
If you're looking for a baby carrier that will stand the test of time throughout years of use, look no further. And if baby carrier safety is a concern for you and you want something that will support your baby's posture without putting strain on your back, we think this is one of the best baby carriers you could choose.
Read our full review of the Ergobaby Omni Dream baby carrier (opens in new tab)
5. Konny Baby Carrier
A lightweight wearable sling with storage bag
Specifications
Weighs: 431g
Age range: Newborn - 44lbs
Reasons to buy
+
Fantastic value for money
+
Very easy to put on
+
Comfy for naps
Reasons to avoid
-
Not adjustable to fit other wearers
-
Minimal back support for wearer
-
Shoulder straps are very wide