Denise Lewis announces fourth pregnancy at 45
The star is proudly sporting her fourth baby bump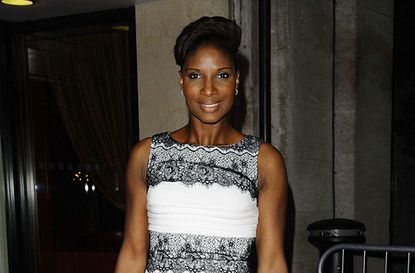 Olympic medallist and sports pundit Denise Lewis has announced she is expecting her fourth child.
Posing in a blue bikini, the Olympic gold medallist beams with pride as she showed off her large bump in an online announcement sharing the news.
"Well Twitter friends, I haven't let myself go I'm eating for two," she wrote in a Twitter post announcing the news, alongside the stunning snap.
"Excited and a little nervous even though I have been here before, but hoping for a healthy and trouble free pregnancy."
She also hashtagged the post #oldermum to signify the pregnancy coming in her more mature years.
A horde of Denise's celeb friends joined in to congratulate the star.
Dame Kelly Holmes wrote: "See I told you I knew! Congrats lovely."
Marathon runner Nell McAndrew wrote: "Amazing, congratulations Denise! Wishing you well."
"Welcome to the club!! Older mummies are awesome and four is a great number. Huge congrats xxxx" added former Team GB athlete Belinda Moore.
She is married to property developer Steve Finan O'Connor, son of comedian Tom O'Connor and former manager of hitmakers such as Neneh Cherry, Madness and All Saints.
They have two sons, Ryan, 12 and Kane, 9.
Denise has celebrated a glittering career.
Not only did she win the Olympic gold heptathlon medal in 2000, she has taken on a series of presenting roles, including on The One Show.
She also celebrated some success as the 2004 champion of Strictly Come Dancing.
Denise will be bringing up her newborn alongside her teen daughter, Lauryn.
The 15-year-old is her first-born from her previous marriage to Belgian 200-metre sprinter Patrick Stephens.
Speaking to the Express about the challenges of motherhood, Denise said that she feels a "guilt" if she is not in action.
"I can never stay in bed because the guilt kicks in far too quickly," she told the newspaper.
"There's always something to be done in the house with a family of five."
Anna Bailey is the editor of GoodTo. She joined the team in June 2018 but has been a lifestyle writer and online editor for more than 14 years. Anna graduated from Bournemouth University in 2004 with a degree in Multimedia Journalism and went on to gain her NCTJ and NCE journalism qualifications. She began her career in local journalism, working as a reporter for the Basingstoke Gazette in Hampshire. As Lifestyle Editor for ITV.com she managed the websites for the broadcaster's best-loved shows including This Morning, Loose Women, Coronation Street, Emmerdale, Coleen's Real Women, and Britain's Best Dish. Before joining Goodto.com she was also a Features Editor at MSN UK and Digital Lifestyle Editor for the broadcaster UKTV. She's also contributed to The Mirror, The Sun, LoveFood, LoveExploring, and TBSeen.