It's a boy! The Duchess of Cambridge has given birth to her third child
The Duchess of Cambridge has given birth to her third child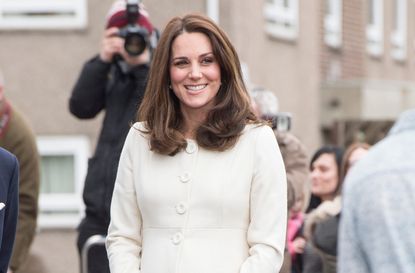 The Duchess of Cambridge has given birth to her third child, a healthy baby boy, this morning at St. Mary's Hospital, Paddington in London.
Kensington Palace announced that Kate was admitted to hospital during the morning of 23rd April 'in the early stages of labour' and gave birth at 11.01am in the Lindo Wing.
With Prince William by her side, the Duchess gave birth to the couple's third child, a baby boy and a new little brother for Prince George, four, and Princess Charlotte, two.
The new baby boy is the third grandchild for Prince Charles and Carole and Michael Middleton, and the sixth great-grandchild for Her Majesty the Queen.
Kensington Palace revealed that members of both families have been informed about the birth of the new royal baby and are 'delighted' with the news.
'The Queen, The Duke of Edinburgh, The Prince of Wales, The Duchess of Cornwall, Prince Harry and members of both families have been informed and are delighted with the news' the Palace tweeted.
Choosing Monday 23rd April to arrive, the new royal baby boy narrowly missed sharing his birthday with his great-grandmother the Queen by just two days, as Her Majesty celebrated her 92nd birthday on Saturday 21st April.
Annie Leibovitz
The Queen pictured last year with her two youngest grandchildren, and her five great-grandchildren
The Palace are yet to reveal the name that Kate and Prince William have chosen for their new little baby, however they did reveal that the baby was born weighing 8lbs 7oz.
While the world waits to discover what the new royal baby's name will be, there is one name that is definitely out of the running, despite the new arrival being born on a very special day.
Kate Middleton has given birth to her third child on St.George's Day, a feast day of celebration for the patron saint of England. However, the new royal baby won't have a moniker that honours his significant day of birth, as big brother Prince George has already got that one covered.
Rex features
While many continue to speculate what Kate and William might name their new arrival, the bookies current favourite name is Arthur.
It is not known if the Duchess of Cambridge will leave the hospital with the new baby today, but we can't wait for the first photos of Kate and Prince William with their new baby son!
An internationally published digital journalist and editor who specialises in SEO strategy and content production, Rachael has worked as a writer and editor for both news and lifestyle websites in the UK and abroad. Rachael's published work covers a broad spectrum of topics and she has written about everything from the future of sustainable travel, to the impact of the coronavirus pandemic on the world we live in, to the psychology of colour.