Elliott Wright and Sadie Stuart announce they are expecting a baby
Sadie is around four months pregnant...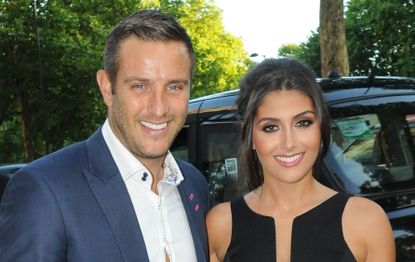 The Only Way Is Essex star Elliott Wright and his wife Sadie Wright are expecting their first baby together.
Elliott and Sadie tied the knot last year and now they've confirmed that they are expecting their first child.
Elliott rose to fame in 2013 as he starred on The Only Way Is Essex (TOWIE) alongside his cousins Mark and Jessica Wright. He quit the show in 2015 to move back to Marbella, where he first met Sadie.
The couple spoke to OK! magazine about their happy news and debuted Sadie's blossoming baby bump.
Sadie revealed: 'We're so excited! I don't think you can ever plan anything because if you plan it, then it doesn't always work out. So I think it's always a surprise but we hoped it was coming.'
The couple were so overwhelmed with the news that Elliott explained they burst into tears when they found out.
Elliott already has two children from his previous marriage, 11-year-old Elliott Jr and nine-year-old Olivia.
The soon to be father-of-three spoke proudly of how Sadie has welcomed his existing children with open arms and how they have adapted to having her in their lives too. He explained that seeing Saide with them makes him certain she'll be a fantastic, natural mother to their first child.
Elliott said: 'For her to embrace my kids the way she did and how my kids took to her, I just knew then that she was going to be a great mum. They even call Sadie's mum and dad Nan and Granddad and they did from after the first summer holidays together.'
He added: 'Sadie's very family-orientated and I couldn't ask for more. I know she's going to be a super mum.'
Sadie is around four months pregnant so could welcome her first child to the world near Christmas! The couple have decided to keep the gender of their baby a surprise but Elliott was trying to see from the scans if they are having a little boy.
Sadie joked: 'We're going to keep it a surprise. He was looking on the scan trying to see if he could see a willy.'
Congratulations to Elliott and Sadie!
The full story is available in this week's OK! Magazine - out today.
Jessica currently works as a Senior Food Writer at Future. She writes food and drink-related news stories and features, curates product pages, tests, and reviews equipment, and also develops recipes that she styles on food shoots. An enthusiastic, self-taught cook Jess adores eating out and sharing great food and drink with friends and family. She has completed the Level 1 Associate course at the Academy of Cheese and is continually building on her knowledge of beers, wines, and spirits.