Amanda Holden reveals why she's banned from her eldest daughter's school sports day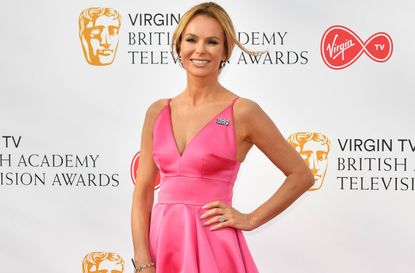 (Image credit: Samir Hussein)
Amanda Holden has admitted that her eldest daughter, Alexa, has banned her from coming to cheer her on at school sport day today because she is too competitive.
The 48-year-old TV presenter admitted earlier this week that she is banned from eldest daughter 13-year-old Alexa's sport day this year, although her youngest daughter seven-year-old Hollie still allows her to attend the event.
Speaking to Jamie Theakston on her Heart FM breakfast show Amanda revealed: 'Lexi is a bit older and she has banned me from going to her sport's day.
'It's on Friday but she isn't interested in anything parental.'
Co-host Jamie jokingly questioned if this was because Amanda is too competitive, to which Amanda replied: 'I'm massively competitive!'.
She added: 'It's forecast to rain, that's my biggest worry
'I've had all the mums on the WhatsApp group saying, "Who's packed the wine"?
'You know those flasks that keep things hot and cold? Well I've filled a coffee dispenser with wine and ice.
'Before I left [for work], I was popping wine bottles! Isn't that terrible, at 5am?'
Thankfully, Hollie hasn't banned Amanda from her school event just yet.
Amanda took to Instagram to share a picture of her and several other mums' huddled under umbrellas with wine glasses in hand watching Hollie's sport's day.
She captioned the photo: #Typical British #sportsday #mamas in the rain 🤣🌧🌧☔️
And, it seems Amanda wasn't the only mum to get caught in the rain at Sport's Day this year, with several other mums sharing similar experiences on Instagram.
One commented: 'Oh Brollies!! What happened with the lady that was supplying the tent ?? Great to see you all having fun - have done this many times myself and no matter what they say wine in the afternoon is absolutely fine 😘.'
Another added: 'That's the way to do sports day ladies 🍾.'
Amanda also revealed, on her Heart radio show, memories of her daughters' previous sports days.
She recalls: 'When Lexi was in year four, I saw Colin Firth on a space hopper in the dad's race – his kids went to the same school as Lexi'
Though, obviously wanting to capture this hilarious moment Amanda revealed: 'We were all told we weren't allowed to get our phones out, can you imagine?!'
Amanda is mother to daughter Hollie Rose, who she welcomed in 2012, and Alexa Louise Florence, who she welcomed in 2006, with Chris Hughes.
Sibelle Mehmet is a Junior Digital Writer at Goodto.com. She joined the team in April 2019 and was her first job since completing a MA in Magazine Journalism at City, the University of London in the summer of 2019. Sibelle previously interned at a number of national titles including OK!, Heat, Closer, Mother & Baby, and The Times Newspaper magazine. She's written extensively about the latest celebrity, showbiz, and royal news.