I'm A Celebrity... Get Me Out Of Here! star Amy Willerton reveals she's pregnant with her first child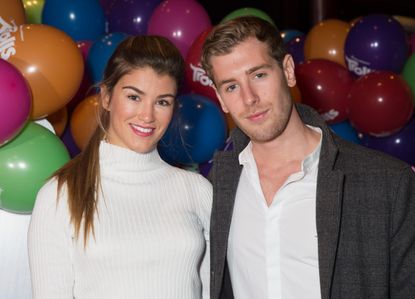 (Image credit: Getty/Dave J Hogan)
I'm A Celebrity… Get Me Out Of Here! and The Jump star Amy Willerton has revealed she's pregnant with her first child with fiancé Daniel Day.
The couple are currently enjoying a luxurious babymoon in the Seychelles.
Amy, 27, and Daniel actually conceived soon after they were engaged, but have kept their happy news under wraps until she underwent an amniocentesis. The former Miss Universe winner is currently five months pregnant.
Amniocentesis, also referred to as an amniotic fluid test, is a medical procedure that checks for chromosomal and genetic conditions. There may have been some extra concern, as there is a history of disability in Amy's family.
Amy's brother Ross, 25, was born with an extra chromosome and form of autism called mosaicism, though the condition is not believed to be hereditary. "Our unborn baby was, in fact, okay," Amy told HELLO!
MORE: Royal fans think there's another telltale sign Kate Middleton is pregnant
"The baby was conceived not long after we got engaged in March. It's definitely the most wonderful engagement present we could ever wish for," Amy told HELLO!
Following the happy news, the couple may now postpone their upcoming wedding as they want to "get it right".
"If it happens next summer as we had planned, amazing. If it happens a little later, that's okay, too.
"Our wedding is about telling our friends and family that we want to be together forever and what counts is that our little baby will be with us. That's really special."
Fiancé Daniel pulled out all the stops when he proposed to Amy in Switzerland earlier this year.
"I was all set to do some extreme skiing," Amy told HELLO! at the time.
MORE: Pregnant Lucy Mecklenburgh shows growing bump in red bikini as she shares seriously body positive message
"Then I spied a breakfast picnic set up with candles, a firepit, a bottle of our favourite champagne and red roses everywhere.
"Then he dropped to both knees and pulled out a box from his pocket containing the most beautiful ring. It felt like a dream."
Lauren is a senior content editor covering everything from the latest royal news to fashion, beauty and health content. Lauren graduated from her masters in magazine journalism in 2011, quickly making the transition over to digital and has never looked back. From getting out a breaking news story to penning an in-depth feature, she loves the variety of writing for digital platforms.