'The biggest mistake couples go through when they've had a baby', Celebs Go Dating expert Anna Williamson reveals how to fix it (and you're not alone in this)
Relationship expert Anna Williamson gives her advice on where couples are going wrong after having a baby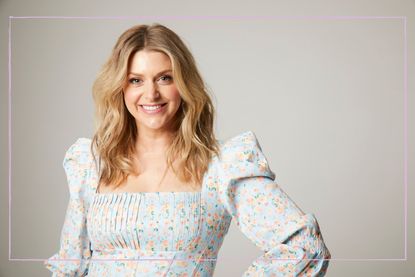 (Image credit: Belle PR)
Celebs Go Dating relationship expert Anna Williamson is no stranger to the pitfalls parents face after a baby and she reveals the 'biggest mistake couples go through' - and you're not alone.
There are many ways you can help ease the pressure when you become a parent. And if you haven't already, start by asking yourself do you know what matrescence is? From there you will be able to identify the changes that lie ahead in early motherhood and when it all becomes too much, we help you to explain the mental load to your partner.
Anna Williamson, who is a relationship expert and mum of two, to son Vincenzo, aged seven, and three-and-a-half-year-old daughter Eleanora, with husband Alex Di Pasquale, has been there and made the same mistakes couples are making today.
In an exclusive interview with Goodto, she tells us about where couples may be struggling and facing challenges and the steps they need to take to get their relationship back on track, she reveals her parenting hacks; from rewarding her kids, who's her celebrity parent inspiration, and shares her tips on surviving kids' parties and gifting.
What is one of the biggest pitfalls new parents face when it comes to their relationship?
How should they overcome it?
"I think the biggest mistake couples go through when they've had a baby is not to prioritise their relationship. If you don't do that you're going to find you'll start unravelling and pulling apart, so it's putting that spotlight back on it. Even if it's just being grateful to each other and noticeably giving each other attention and affection makes all the difference."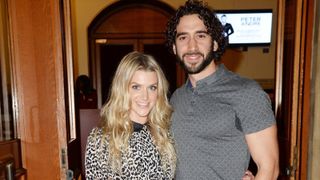 How do you reward your kids?
Do they get pocket money? And do they do chores for it?
"I'm all about chores and rewards. I think it's good to instill a work ethic. I made it very clear from a young age that we are a family and that families all work together depending on capabilities and age. My son loves having a chores list. There are some things I just expect from him like take your plate from the table to the kitchen when you've had it, and make your bed. I will not raise a lazy boy.
If he drops his school uniform in the dirty laundry he gets 20p. He loves helping me put the washing on the airer and helping me fold it up pairing up all the socks so he'll get 20p for that. He loves wiping the windows down hoovering and tidying, sometimes it can be that I have to go around again and tidy after him but I just love putting that concept in their head in life that you work together as a team and you dont expect other people to do things for you. For any child, a reward chart or pocket money chart for doing chores is a win-win, they enjoy that sense of accomplishment.
It's all about positive but firm language and I make it non-negotiable with my son, if he drops something on the floor I say "Who do you think's going to pick that up?'. It's all about getting them involved from an early age."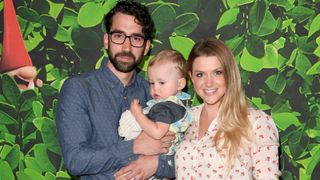 Tell us about the best kids' party you've ever thrown
"Because my daughter has a Christmas birthday, I felt the guilt last year as (before that) she had nothing at all because she was a COVID baby (born amid the COVID-19 pandemic) so I did throw a bit of a bash. She had Elsa from Frozen and an obligatory balloon arch so that felt a bit extra, and it was a snowy day, it felt very festive. They're not cheap children's entertainers but this one was very good and my little girl had the best time.
I do feel because she's got a Christmas birthday I do go above and beyond for her. This year we're not going to go all out, it's a lot of money, people are having to tighten their belts a little bit and I don't think it's necessary to have a big party every year because I think you make a rod for your own back."
How about taking your kids to birthday parties
Do you have a rule on max gift spend?
"I think spending about a tenner on a gift is appropriate and for that, you can get so much these days. There are so many brilliant shops out there, you can get three presents for £20. I buy in bulk but I'm a bit low at the moment. I have a bag of boys' and girls' toys when you go out and get some good bargains - if you can get a cheap LEGO set for a fiver you're winning.
You often get caught short, I think "Oh no I forgot to get so and so's but that's fine I've got a bag of stuff."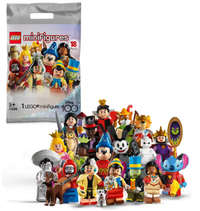 LEGO Minifigures Disney 100 Characters Mystery Bag £3.50 | Argos.co.uk
These lucky dip-style Lego character figure bags contain one mystery iconic Disney film character and there are 18 to collect from Sorcerer's Apprentice Mickey, Pinocchio, Jiminy Cricket, The Queen, Stitch 626, Pocahontas, Aurora and Baymax minifigures, Cruella de Vil and Dalmatian puppy, Miguel and Dante, Ernesto de la Cruz, Oswald the Lucky Rabbit and Robin Hood buildable toy minifigures and Prince John, Tiana, Dr Facilier, Queen of Hearts and Mulan Minifigures.
---
Who is your celeb parenting inspiration?
"My mate Stacey Solomon is a bit of a ledge (legend). She's got five children, six including her stepson, and I think she does a great job of just going with the flow and I think that's a really good attitude to have. She's a working mum and you know from Stacey that the kids come first and I very much have the same ethos.
My kids come first and everything else comes beneath that. I think that's very inspiring and is why she is so popular amongst mums in particular because her aura is a positive one and I think anyone that can have five kids and still look great with an amazing house while working is to be admired. She doesn't do it smugly, it's done in Stacey's way and I think it's very special."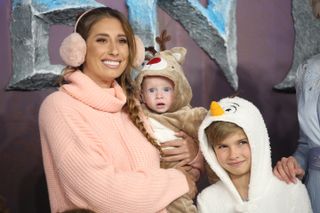 Credit: Relationship Expert & Counsellor Anna Williamson @annawilliamsonofficial
In other family news, Mum shares the "ultimate hack" for picking up LEGO, hint: it involves a sock and the 164-year-old Swedish secret to raising happy and resilient kids - it's just 3 steps, and we're converted