Ayda Field reveals young son's secret health battle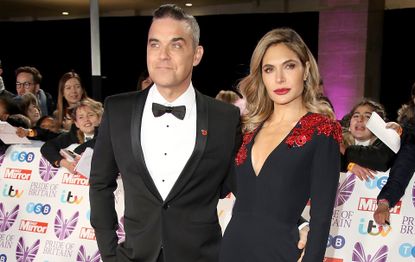 (Image credit: Getty)
Ayda Field has opened up about her young son's secret health battle.
The X Factor judge, who shares four-year-old son Charlton with her musician husband Robbie Williams, revealed her son's health problems during the Pride of Britain awards.
After meeting Ella Chadwick, an 11-year-old school girl who received an award for helping to save the lives of sick children, despite having spent six years on dialysis and undergoing multiple organ transplants herself, Ayda was moved to open up about her son's health issues.
The mum-of-three, who married the former Take That star back in 2010 , said she felt 'powerless' when her youngest son, who goes by the name of Charlie, became ill.
'My son's had health problems,' she said. 'Nothing as serious as Ella's, but when your child is ill you feel so vulnerable, so powerless.
'Nothing else in the world matters until they're well again.
'So I really felt all Ella's mum's worry and pain. To see Ella so strong, sweet, selfless and cheeky, is so uplifting.'
As well as four-year-old Charlie, the X Factor couple, who married back in 2010, also share two other children together: their eldest daughter Theodora (or Teddy), who is six, and their youngest daughter Colette (or Coco) who the family welcomed back in September.
Baby Coco will apparently be the couple's last child after Robbie, who in the past has opened about his own health battles, recently confessed that the couple will be having no more children after he'd been 'crushing' Ayda's hopes for more children.
The emotional evening also saw David Beckham surprise Ella with the Child of Courage award, a prize awarded to young children who have done something brave among difficult circumstances.
Ella, who was born with a rare-kidney disease, spent six years on dialysis and has undergone two kidney transplants.
At the same time as battling her own health issues, she's spent years helping other young children who are plagued with illnesses and often creates sweet cards that she hands out in local hospitals to help put a smile on people's faces.
Father-of-four David, 43, helped her to deliver cards around hospitals to other ill children and said that he was honoured the young do-gooder.
Well done to little Ella and all our best to wishes to her and Charlie.
Aleesha Badkar is a lifestyle writer who specialises in health, beauty - and the royals. After completing her MA in Magazine Journalism at the City, the University of London in 2017, she interned at Women's Health, Stylist, and Harper's Bazaar, creating features and news pieces on health, beauty, and fitness, wellbeing, and food. She loves to practice what she preaches in her everyday life with copious amounts of herbal tea, Pilates, and hyaluronic acid.