The happiest childhood memories have been revealed!
The memories you make with your children now will stay with them forever.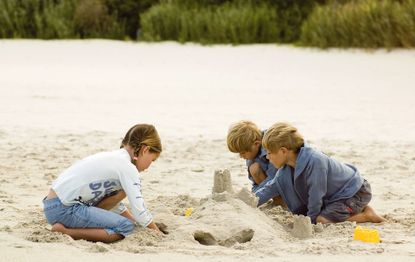 (Image credit: Denkou Images/REX/Shutterstock)
The memories you make with your children now will stay with them forever.
Creating happy memories for our kids is one of the best things about being a parent. And new research suggests it could also be one of the most important things we can do, because our fondest and most vivid childhood memories can stick with us for a lifetime.
So why not be inspired by the childhood memories that have stuck in your own mind and recreate some of those happy experiences for your own kids this weekend?
A new survey of 2,000 UK adults has revealed the top 50 most common childhood memories. Heartwarmingly, family memories have taken the top three spots, with Christmas dinner in first place, closely followed by going to the beach and visiting grandparents.
'Memory is a tricky and unreliable thing, but those earliest recollections from our childhood can also be the strongest and most vivid,' said a spokesperson for Heathrow, who commissioned the research.
'It is encouraging to see that bright and positive experiences like your first Christmas or time on a sunny beach with your family are the experiences which stick with us as we get older.
'For parents, this should act as an incentive to ensure your child has these kinds of memorable experiences – they will stick with them for a lifetime.'
As well as going to he beach, memories like building sandcastles, eating fish and chips on the beach, hearing the ice cream van music and counting down the days until the summer holidays also made the top 10.
'This research shows that precious times on a sunny beach with family are some of the most important experiences that stick with us as we get older,' said Heathrow's Ross Baker.
70 per cent of parents agreed that they had tried to recreate similar memories for their own children.
The South West was one of the most popular holiday destinations linked with happy childhood memories. The research was timed to coincide with the launch of a new Flybe service from Heathrow to Cornwall Airport Newquay.
'We hope that it provides parents with opportunities to ensure their children have similar experiences that will stay with them for a lifetime,' said Ross.
Home or away, getting out in the fresh air seems to help lay the foundations for lasting memories: playing in the park, learning to ride a bike and playing playground games also made the top 10, while climbing trees and playing conkers snuck into the top 20.
Here's the full list
Christmas dinner
Going to the beach
Going to your grandparent's house
Hearing the ice-cream van music
Playing in the park
Getting pocket money
Buying penny sweets from the village shop
Learning to ride a bike
Playing playground games
Getting a pet
Pick 'n' mix sweets
Buying your first album/single
Building sandcastles
Counting down the days until the summer holidays
Playing conkers
Climbing a tree
School dinners
School sports days
Your first crush
Fish and chips on the beach
Listening to your favourite song on repeat 'til you get bored
Caravan family holidays
Blowing out the candles on a birthday cake
Skimming stones
Swimming lessons
Singing hymns
Searching through rock pools
Sitting cross-legged in assemblies
Learning to read
Going out with your friends for the first time without your parents
Sleepovers at a friend's house
Being in the school play
Catching frogs, newts, tadpoles in a pond
First day of secondary school
Family holidays abroad
Spelling tests
Flying a kite
Watching films that were above your age rating
Being read a bedtime story
Winning an award
Your first time on an aeroplane
Painting/arts and crafts
Bath time
Jumping in puddles
Finding a rope swing in the woods
Buying a school uniform
Going to theme parks
Playing with leaves
Going to church
Handwriting lessons
Samantha is a freelance writer at Goodto who has been with team since 2019. Initially trained in psychology, she specialises in health and wellbeing and has additionally written for magazines such as Women's Health, Health & Wellbeing, Top Santé, Healthy, Refinery29, Cosmopolitan, Yahoo, CelebsNow, Good Housekeeping and Woman&Home.