How to make paper mache
How to make paper mache is all about paper, glue and water, and a little bit of imagination.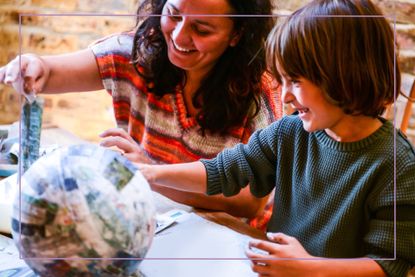 (Image credit: Getty Images)
On a wet day, knowing how to make paper mache at home can be a fun way to keep the kids entertained.
All you need is a simple paper mache recipe, which we provide below, along with a straightforward step-by-step guide to creating paper mache crafts. As crafts go it really is a surprisingly easy craft to do with kids, so if you're struggling to think of things to do with children, this one's a winner. All you need is;
Newspaper strips
Plain flour & salt
Water
Emulsion paint & paintbrush
Vaseline
"Paper mache is a fun art activity for children and a mindful journey, a calming escape in an era of digital distractions." Jéssica Dorantes, Educational Expert at toucanBox tells us. Follow our easy instructions below on how to make simple paper mache using basic household materials, listed below, that you likely already have on hand.
How to make paper mache
Tear the sheets of newspaper into strips of about 3 inches long and then put to one side.
Cover the strips of paper with the glue or homemade glue paste (recipe below), on both sides with a paintbrush - it's best to do this on a flat and covered surface, turning them over with the paintbrush as you go.
Using your fingers, place your glue-soaked strips one at a time over the object you're covering and smooth down with your brush to release air bubbles. Repeat this process three times to really layer it up.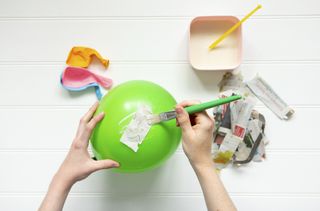 Leave to dry. Then, when it is completely dried out, you can gradually build up more layers to get to the required strength and thickness of the mache.
When it is all completely dry - this may take overnight - paint with two coats of emulsion paint to seal it. When it's dry you can paint it your desired colour.
How to make paper mache paste
In a bowl and mix one part sieved flour with one part of water (eg, 1 cup flour and 1 cup water, or 1/2 cup flour and 1/2 cup water) until you get a thick glue-like consistency.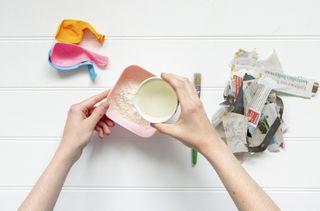 If you think it's too thick just add a bit more water a teaspoon at a time. Mix well with a wooden spoon to get rid of all the bumps. Finally, add a few tablespoons of salt to help prevent mould.
Top tip
If you're using an object like a bowl to create a certain shape, be sure to smear the half that you're applying the strips to with a very light layer of vaseline, this makes it a lot easier to remove once the paper mache has dried. Though you could always use a balloon, then burst it to remove.
What are the benefits of paper mache for kids?
Crafting paper mache helps your children boost their creativity and imagination. With this craft, they can make anything they can possibly dream of, from surreal shapes to specific objects.
Jessica tells us; "we [at toucanBox] believe in the transformative power of hands-on art like paper mache — it doesn't just spark creativity, it nurtures essential life skills that every child should embrace."
She adds; "Beyond relaxation, the process of tearing, layering, and moulding paper not only helps children to develop fine motor skills but also fosters their imagination and creativity. It hones hand-eye coordination and develops perseverance as kids layer and shape their visions into tangible forms."
They'll feel a great sense of achievement once their creations harden and are ready to decorate. Another benefit of paper mache is that your child will need to follow a set of instructions, first in making the gloopy mixture, then in manipulating it to make shapes. This helps them to understand the concept of taking the right steps in the right order. They'll also develop patience as the paper mache dries out.
Once you've successfully made your own paper mache, maybe try making your own calm down jar or learn How to tie dye t-shirts and even How to make coasters from scrabble tiles.
Parenting advice, hot topics, best buys and family finance tips delivered straight to your inbox.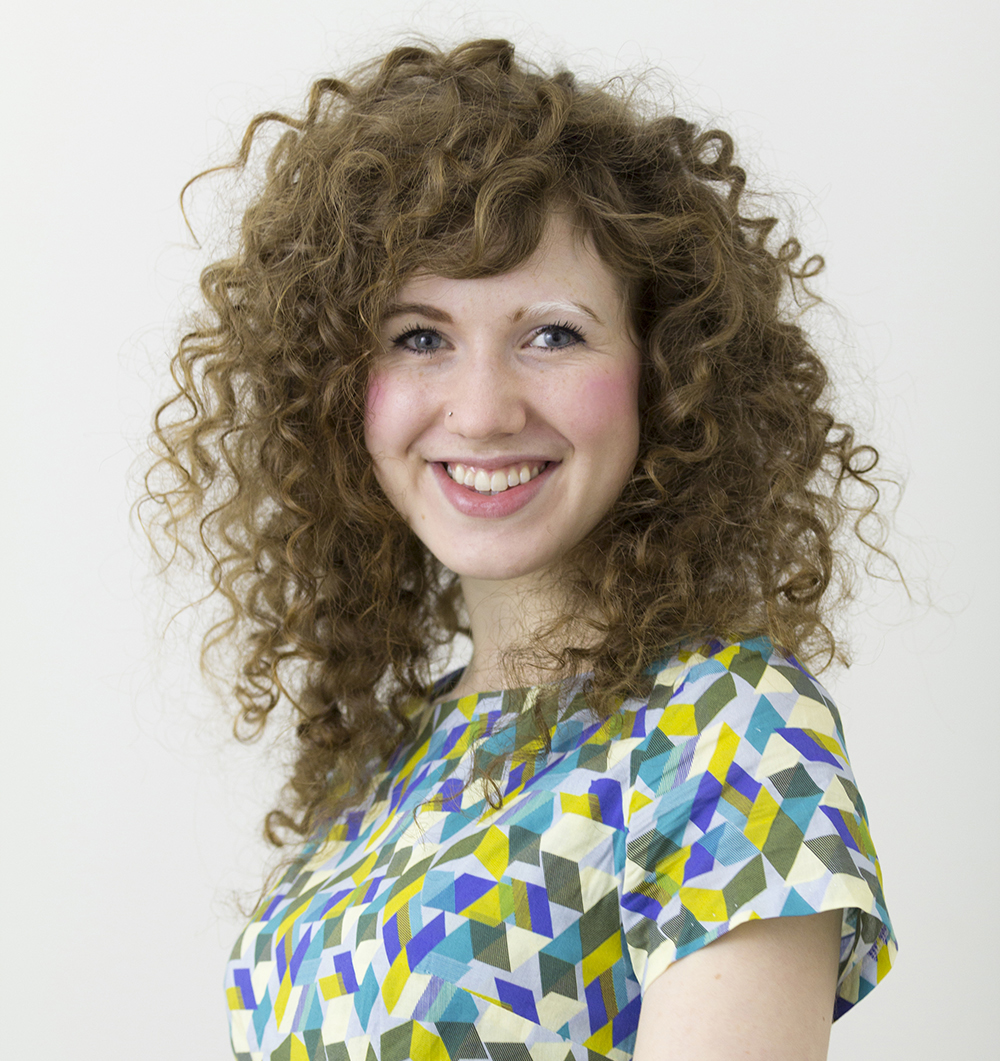 Esme is Future's resident craft expert, working across titles such as GoodTo, Woman&Home, Woman's Weekly, Woman, Woman's Own, Chat, Now, Pick Me Up and The Craft Network. Successfully turning her sewing hobby into a career, she's adept in a number of crafts, including sewing, papercraft, calligraphy, embroidery and printing.