'This is wrong' Billie Faiers criticised by fans for picture of daughter Nelly in the bath
'Billy, you really need to take this photo down'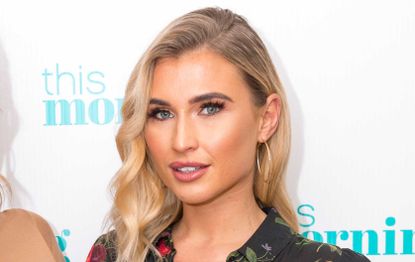 Mum-of-two Billie Faiers has come under fire for a picture she shared of her daughter on her Instagram page.
Billie and her sister and fellow mum-of-two Sam Faiers often post pictures of their family and children on social media.
The sisters both have a big social media presence and Billie has 1.7 million followers.
Although her posts are generally very well received, one of her latest posts has caused a lot of concern among fans, with several calling for her to take the picture down.
The picture shows little four-year-old Nelly kicking back in a bubble bath to relax with her hair tied in a towel to mark the start of her first half-term since starting school.
In the caption, Billie wrote: 'Me and my little lady chilling and room service tonight 🤣🙌🏼💗💅🏼 ... Its been an amazing first half term at school ❤ time to relax my little honey .... yeah right 🤷🏼 ♀️🤣❤🙊'.
The picture has over 62,000 likes and more than 500 comments but many of them are urging Billie to reconsider which pictures she shares of her children online.
One person wrote: 'Love ya normal pics but this is not cool'.
A second said: 'Billy, you really need to take this photo down'; while another added: 'I think the line has been crossed with this post 😒'.
A fourth stressed: 'Never comment but this is wrong. Very wrong so many sickos out there I find this irresponsible keep it for yourself and no I have never posted a pic of my kids in the bath where you can see more than their head and shoulders also my accounts are private unlike hers. She's a lovely little girl but this should be taken down'.
However, some of Bilie's other followers defended her decision. One wrote: 'You can't see anything so where's the problem, she's exposed her to nothing.'
Another argued: 'She's covered her so why does it matter it's her baby girl she can post what she wants.'
What do you think of the picture? Should Billie and celebrities more generally think more carefully about the images they share online or do you think they have a right to do whatever they want? Head over to our Facebook page to join the debate, we'd love to hear your opinions!
Jessica currently works as a Senior Food Writer at Future. She writes food and drink-related news stories and features, curates product pages, tests, and reviews equipment, and also develops recipes that she styles on food shoots. An enthusiastic, self-taught cook Jess adores eating out and sharing great food and drink with friends and family. She has completed the Level 1 Associate course at the Academy of Cheese and is continually building on her knowledge of beers, wines, and spirits.