Boris Johnson and wife Marina Wheeler confirm divorce after 25 years of marriage
The couple released a joint statement.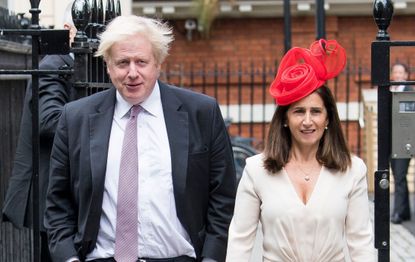 Boris Johnson and his wife Marina Wheeler have confirmed they are getting divorced after 25 years of marriage.
Former foreign secretary Boris Johnson and his wife Marina Wheeler released a joint statement which confirmed they had separated and were seeking a divorce.
There has been speculation that the couple had separated and The Sun broke the story yesterday that Boris and Marina had been living apart.
In the joint personal statement, released this morning (7 September) by a family friend, it is revealed that couple made the decision to separate 'months ago' and that they are in the process of confirming their divorce.
It said: 'Several months ago, after 25 years of marriage, we decided it was in our best interests to separate. We have subsequently agreed to divorce and that process is under way. As friends we will continue to support our four children in the years ahead. We will not be commenting further.'
Boris and Marina got married in 1993. Together they are parents to 25-year-old Lara, 23-year-old Milo, 21-year-old Cassia and 19-year-old Theodore.
Boris is father to another child, a daughter, whom he shares with arts consultant Helen Macintyre who was born in 2009.
Helen, pictured above, and Boris have a daughter together
It is thought that this is not Boris's only child he has fathered outside of marriage.
The Court of Appeal ruled in 2013 that the public had a right to know about Boris's affair as it influenced the electorate's ability to decide if they deem Boris fit for public office.
At the time Lord Dyson, master of the rolls, said: 'It is fanciful to expect the public to forget the fact that . . . a major public figure had fathered a child after a brief adulterous affair (not for the first time).'
Boris has been married once before Marina. He married Allegra Mostyn-Owen in 1987 who he met while studying at the University of Oxford but the marriage was dissolved in 1993.
He split from Allegra after having an affair with Marina.
It has been widely reported over the years that Boris has been unfaithful to Marina throughout their marriage.
The Sun report that Boris's latest alleged fling is one affair too many for Marina, which is why they have finally called quits on their marriage.
Formerly mayor of London, Boris resigned from his position as Foreign Secretary in July in protest over the progress of Brexit.