Pregnant women are measuring their cervical dilation in Easter eggs
Some mums-to-be are claiming they'll never look at chocolate the same way again…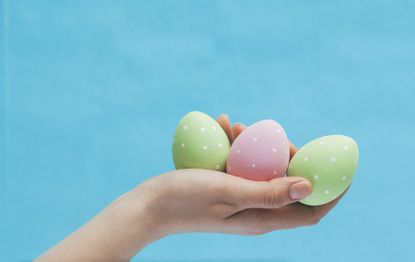 (Image credit: REX/Shutterstock)
Some mums-to-be are claiming they'll never look at chocolate the same way again…
When you're in labour, getting your head round cervical dilation can be tricky. Lucky then, that Kalma Mamas have come to the rescue of confused mums-to-be with the tongue-in-cheek seasonal guide to the 'eggstraordinary cervix' they helpfully shared on their Facebook page.
The visual guide uses Easter eggs in varying sizes to chart how the cervix expands during labour (opens in new tab), from 1cm all the way up to 10cm.
'Enjoy those Easter treats,' they cheekily commented. 'Anyone due an Easter baby this year?'
https://www.facebook.com/kalmamamashq/photos/a.717735391918060/824985371193061/?type=3&theater
According to the guide, at 1cm your cervix has opened up to the size of a Mini Egg. At 2cm it's as wide as a small Lindt chocolate egg. At 5cm it's as big as a boiled egg. And when your midwife tells you you've hit 6cm, it's about the same size as a Kinder Surprise. By the time baby's about ready to make an appearance, at 10cm dilated, your cervix is as wide as a Cadbury Easter egg – eek!
The chart caught the attention of Royal Devon and Exeter Maternity Services, who shared the image on their own Facebook page. And it certainly made an impact on their followers, getting thousands of comments.
Several women jokingly declared that the post had 'ruined' Easter.
'I'll never be able to hold a Cadbury's Easter egg (opens in new tab) and feel the same way again!' said one.
'Hahahaha! Certainly an interesting way of looking at things. Although I'll never look at a mini egg quite in the same way!' agreed another.
'Glad I didn't see this before,' one new mum added.
But others were impressed.
'Wowzers and I've done that six times,' said one mum. 'The cervix is amazing and this post has definitely not put me off chocolate eggs.'
Many others agreed that the post was helpful and made cervical dilation 'so much easier to understand.'
But others were unsure 'whether to be traumatised or impressed'.
And one woman suggested the medical profession adopt the guide as part of standard practice, telling a midwife friend: 'I can imagine you saying to a patient, "OK, you're not ready yet. You're about a Buttons egg."'
Samantha is a freelance writer at Goodto who has been with team since 2019. Initially trained in psychology, she specialises in health and wellbeing and has additionally written for magazines such as Women's Health, Health & Wellbeing, Top Santé, Healthy, Refinery29, Cosmopolitan, Yahoo, CelebsNow, Good Housekeeping and Woman&Home.