Chelsea Clinton is expecting her third child with husband Marc Mezvinsky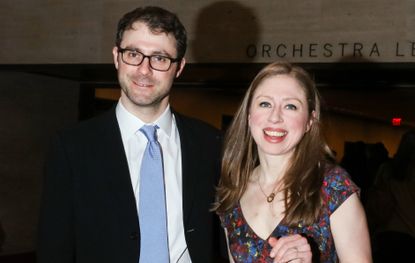 Chelsea Clinton is expecting her third baby with husband, Marc Mezvinsky.
Chelsea Clinton has just announced she is expecting a baby with her husband, Marc Mezvinsky.
This will be the couple's third child, with the 38 year-old posting on Twitter to share the news with fans:
'Marc and I have loved watching Charlotte be such a wonderful big sister and we're excited to watch Aidan become a big brother! We cannot wait to meet our newest addition later this summer.'
The daughter of Bill and Hilary Clinton gave birth to their first daughter, Charlotte, in 2014. Their son Aidan was then born in 2016, in the midst of Hilary Clinton's presidential campaign.
Twitter fans rushed to congratulate Chelsea, who has written a series of successful children's books, and Marc on the heart-warming news, with one user writing:
'B'sha'ah tovah, Chelsea! Congratulations to your whole family. May your pregnancy be easy and joyful, and full of love and support as you grow a person.'
Another fan very sweetly commented in response to the news: 'Babies are a gift and a blessing. Congratulations on getting yours.'
When to get pregnant: the best time of year for a baby (opens in new tab)
And one user also weighed in on their own experience of telling the kids in their family about a third arrival, stating:
'When my oldest grandson pointed out to the then youngest that he would be both a big brother and a little brother, he beamed and declared he would be the Medium brother. It's kind of stuck.'
Chelsea, who married Marc in 2010, opened up about becoming a mum for the first time in a 2015 interview with Elle.
Speaking of her daughter, Charlotte, at the time, Clinton gushed about her first experience of motherhood:
'My whole life is reoriented around my daughter in the most blessed sense,'
'I now understand - this is something else that Marc and I talk about all the time - all of the enthusiastic, bombastically spectacular, wonderful things people say about their children, because we also feel and think all those things about Charlotte - that she is just the most remarkable little bubbly, perfect, chunky monkey creature ever.'
Freelance Lifestyle Writer
Niamh McCollum is a freelance lifestyle writer who has written for Future titles GoodTo and Marie Claire UK, plus the Irish Independent. The Dublin-based journalist specialises in stories
affecting families - from health updates, to the freshest parenting debates and celebrity announcements.