DJ Khaled announces he is expecting second child with wife Nicole Tuck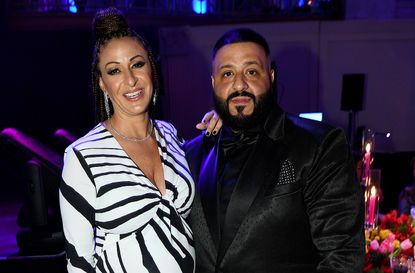 (Image credit: Getty)
DJ Khaled has announce that he and his wife are expecting their second child.
The songwriter and record producer took to his social media to announce the exciting news.
Sharing the happy news with his 16.5 million followers, the dad-of-one posted a video of his wife Nicole getting a scan done.
'God is the greatest,' the 43-year-old captioned his gushing post. 'All I ever wanted to do was inspire the world to be great and to leave a legacy.
'Almost 3 years ago when I found out my queen was expecting our son Asahd I knew my life would change forever and that OUR legacy would soon be on the way,' he continued.
'After that blessing I released some of my biggest albums to date (Grateful and Father Of Asahd) inspired by his greatness.'
The hitmaker, who has collaborated with industry icons like Beyoncé, Jay-Z, Kanye West, Drake and Rihanna, went on to confirm the news, gushing: 'Just when I thought life couldn't get any better, I received another blessing that my queen is expecting an addition to our legacy.
'I'm feeling more inspired than ever now,' he added, continuing: 'As we go into this journey I'm taking FANLUV along with me to keep the love and blessings flowing to the world ! #FAMILY'.
In just a few hours the post raked up nearly two million views and over 20,000 comments from fans, friends and acquaintances.
'This is soooo good!!!' wrote one acquaintance. 'I'm extremely happy for you and Nicole. Love you guys. This is amazing. Asahd is gonna be a great big brother!!! 💙💙🙏🏽🙏🏽'.
'Congrats!!! 🙏🏾,' added another. 'So happy for you and your family!! 🙏🏾'.
Others added: 'Wow. That's awesome. Congrats to the family. 🙏🏽🙏🏽🙏🏽', 'The sun is shining on you 🌞' and 'Awwwww sweet! Congrats on another 1❤️'.
This will be the second child for the DJ and his wife after they welcomed son Asahd back in October 2016.
Big congratulations to the whole family on their exciting news!
Aleesha Badkar is a lifestyle writer who specialises in health, beauty - and the royals. After completing her MA in Magazine Journalism at the City, the University of London in 2017, she interned at Women's Health, Stylist, and Harper's Bazaar, creating features and news pieces on health, beauty, and fitness, wellbeing, and food. She loves to practice what she preaches in her everyday life with copious amounts of herbal tea, Pilates, and hyaluronic acid.