Gemma Atkinson and Gorka Marquez are expecting their first child together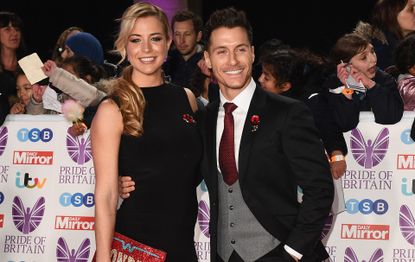 (Image credit: Getty)
Gemma Atkinson and Gorka Marquez have announced they are expecting a child.
The Strictly Come Dancing couple both took to social media to reveal their exciting news.
Sharing on their respective Instagram accounts, the parents-to-be both posted identical pictures of their two dogs, both wearing signs that revealed the news.
One sign read: 'Guess what…Mum's pregnant!' And the other read: 'We're going to be big brothers!'
'And what Amazing big brothers they will be!' captioned the expectant mum.
'Myself & Gorks are beyond excited and happy and feel incredibly blessed to be meeting our new family member later this year. Baby Marquez!!! We love you loads already ❤@gorka_marquez'
'@glouiseatkinson Thank you for the greatest gift in life,' the dad-to-be captioned his photo of the adorable announcement photo.
'Myself and Gem are beyond thrilled to be welcoming our new family member later this year! Baby Marquez ♥ Norm and Ollie can't wait to start their big brother duties'.
Overjoyed fans rushed to congratulate the couple, commenting: 'OMG!!! Congrats to you both. @glouiseatkinson & @gorka_marquez that's brilliant!!! You will make the most amazing parents!! Lots of love', 'Congratulations what a wonderful love story yours is' and 'Oh wow amazing news congrats to you both, and omg how gorgeous is that baby going to be?!'
Some dedicated fans even became emotional at learning the news, writing: 'Omg Gemma n Gorka.. I'm so so so happy for you both. This news brought happy tears to my eyes. Congratulations to you all.xx❤❤xxx' and 'WONDERFUL TEARJERKING News woooowww over the moon for you all xxxx'.
This will the first child for the high-profile couple who met when Gemma took part in the 2017 cycle of Strictly Come Dancing, where Gorka worked as a professional dancer.
Earlier this month, the pair opened up to ITV's Lorraine about their home life, hinting that they could soon be taking a big step in their relationship.
'I'm very fortunate in that I've got a supportive partner in Gorks when it comes to my training and my work,' said the former Hollyoaks star.
'They say happy wife happy life and all that don't they?' added the 34-year-old.
'She's not a wife yet,' replied her 28-year-old partner.
'Yeah, not a wife yet' added the actress. 'He's not that lucky yet.'
Congratulations to Gemma and Gorka on their wonderful news!
Aleesha Badkar is a lifestyle writer who specialises in health, beauty - and the royals. After completing her MA in Magazine Journalism at the City, the University of London in 2017, she interned at Women's Health, Stylist, and Harper's Bazaar, creating features and news pieces on health, beauty, and fitness, wellbeing, and food. She loves to practice what she preaches in her everyday life with copious amounts of herbal tea, Pilates, and hyaluronic acid.