Have you heard of the Tic Tac travel hack? It could be fatal for children and here's why
The new space-saving trend is popular on TikTok but a medical expert warns families of the dangers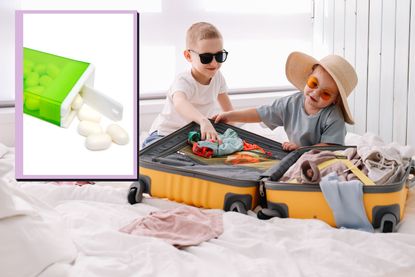 (Image credit: Getty)
Goodto Newsletter
Parenting advice, hot topics, best buys and family finance tips delivered straight to your inbox.
Thank you for signing up to GoodTo. You will receive a verification email shortly.
There was a problem. Please refresh the page and try again.
When it comes to saving money on holiday, families are looking for all kind of hacks to help them make their money go a little further but this new Tic Tac medication hack could prove fatal for children, and we explore why.
When looking to book the cheapest flights, it's even harder to find an airline that doesn't charge for extra luggage or to sit together on the flight for free, so when jetting of on a family break over the summer holidays, chances are you'll want to pack as lightly as possible.
A Ryanair luggage hack could help you save money on flights but TikTok has recently made another hack popular - but it's got hidden dangers for children and even yourself.
As we look at all you need to know...
What is the Tic Tac medication travel hack?
The Tic Tac medication travel hack is a new viral hack that advises you to re-pack your medicines into an empty Tic Tac container to save space in your bag. Not only is medicine packaging bulky but you also might not need to take the whole box with you.
The video clip is captioned, "Life hack for medication!" and the user tells followers, "Here's a hack for when you're travelling with medication. Get a Tic Tac container, remove the label. Take the lid off and add your medication and just put the lid back on. Now you can dispense your medication and it's a lot smaller than the pill bottles. Just ask the pharmacist for an extra label."
And while some fans have thanked the user for the recommendation, others have issued warnings.
Why could the Tic Tac medication travel hack be fatal for children?
The Tic Tac medication hack could be fatal for children, warns Mitesh Desai, director at Landys Chemist. "Medical packaging often incorporates child-resistant features such as anti-twist child locks to prevent accidental ingestion by curious young children who may mistake medicine for a sweet treat.
"When you remove medicine from its child-resistant packaging, you increase the risk of accidental poisoning or the ingestion of harmful substances by children. This could have fatal consequences."
And TikTok users have also commented on how dangerous it could be.
One warned "That is extremely dangerous if there are kids around too."
Another agreed, "Dangerous if you have children."
Why is it important to keep medicines in the packages they come in?
It is important to keep medicines in the packages they come in for a variety of reasons, Mr Desai explains, "While swapping your medicine packaging for a smaller container that might take up slightly less space in your luggage, seems like a good idea, there are a few reasons why this isn't recommended."
"Removing medication from its original packaging can cause delays at the airport. In worst-case scenarios, you may have to discard your medicine as airport security may not be able to identify the medication if it is not in its original packaging."
He continued, "In addition to the hassle of making it through the airport, you could also run the risk of diminishing the effectiveness of your medication by putting it into a different container. Medical packaging is designed to protect medication from interacting with elements such as light, heat, moisture and air, which can degrade the potency of medicine over time. When you remove your medication's original packaging, exposure to external elements can reduce the stability of the medication's formulation and contribute to a potential loss of therapeutic benefits."
Some TikTok users are aware of these warnings. One said, "Some medication is light sensitive - be careful!!"
While a second user put, "Horrible advice. Prescription medication must be transported in the original labeled bottle."
What are the rules around travelling with medication?
If you're wondering what are the rules around travelling with medication, Mr Desai warned, "Different countries have different rules and regulations about the kind of medication you can or cannot carry with you. Many countries will require you to you keep your medication in its original packaging when travelling overseas.
"Medications that are freely available in one country may be classed as controlled substances in other countries. The best way to know what medicines you can or cannot carry abroad is by checking with the embassy of the country you're travelling to, who can advise on whether or not you will need to carry your prescription, or a personal license and so on."
And a TikTok user agreed, telling fellow users, "Separating your prescription pills from the prescription bottles can land you in jail."
There are plenty of other travel hacks that are safer like this toddler travel hack, or this time saving packing hack that will save time and money.