Hilary Duff defends picture of her kissing her son and gives advice for mums who have been shamed
Hilary was called 'disgusting' for the picture...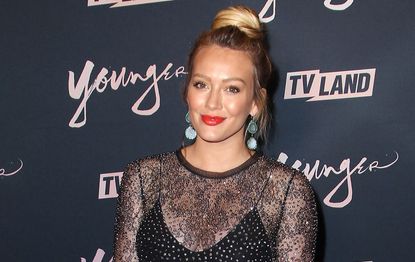 Hilary Duff received lots of criticism when she posted a picture of her kissing her then three-year-old son and now she is giving advice to other parents who have been shamed.
Hilary Duff is pregnant with her second child, (opens in new tab) a little girl, and it will be her first child with boyfriend Matthew Koma.
She is already mum to six-year-old Luca whose dad is Mike Comrie. The actress regularly shares pictures of her family life on social media and like many celebrities she has a huge following of fans and an army of critics too.
Back in 2016 Hilary posted a picture of herself kissing her son Luca on the lips while at Disneyland. Despite being in the happiest place on earth and enjoying some quality family time, Hilary was bombarded with negative comments questioning why she was kissing Luca on the lips.
Some branded it 'confusing for him' while others said it was 'not healthy' and 'disgusting'.
But Hilary wants everyone to know that she doesn't care about their criticism and won't tolerate any level of mummy-shaming.
Speaking to InStyle to clarify her thoughts on the comments she received and her approach to the negativity, Hilary explained: 'People were like, "That's disgusting"... First of all, he was three. Kiss your kids, and anyone who doesn't like it can hit unfollow. Not interested in what you have to say.'
Hilary also revealed that she has been criticised for carry her son around and giving him piggybacks despite the fact he's only six-years-old.
She said: 'People just have all these crazy judgments and I think it's best to not listen and laugh it off.'
Explaining how she combats the negativity that she is faced with Hilary simply said: 'Honestly, trying to put into perspective other people's realities. The only thing that matters is you and your family and whatever choices you're making, and how that choice feels for your family.'
Hilary also discussed how she thinks Luca will hold up as a big brother after she joked with the Today show in the US earlier this week that he was 'on the fence' about his new sibling's imminent arrival.
Hilary told InStyle: 'I think he's excited. It's been him and I for six years, so it was a big conversation to have...But I think he's going to be a great big brother. He's such a sweet kid and has such a gentle soul, so I know he's going to be great with her.'
She added: 'Sometimes he's still paranoid, thinking she's going to drool on his toys.'
How did you tell your first child they were having a sibling? How did they react? Head over to our Facebook page to join the conversation as we would love to hear your stories!
Jessica currently works as a Senior Food Writer at Future. She writes food and drink-related news stories and features, curates product pages, tests, and reviews equipment, and also develops recipes that she styles on food shoots. An enthusiastic, self-taught cook Jess adores eating out and sharing great food and drink with friends and family. She has completed the Level 1 Associate course at the Academy of Cheese and is continually building on her knowledge of beers, wines, and spirits.