Holly Branson has welcomed her third baby and revealed the adorable meaning behind the name
One of the new baby's twin siblings had a big say in the name…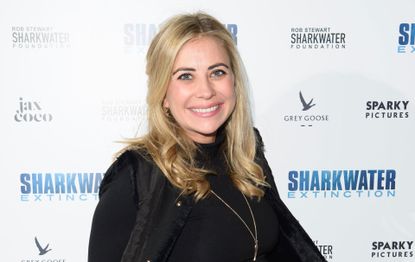 Holly Branson, the daughter of entrepreneur Richard Branson, has welcomed her third baby and confirmed the news with a sweet Instagram post.
Holly Branson made a surprise announcement back in August that she was pregnant (opens in new tab) with with her and husband Freddie Andrews's third 'miracle' baby.
The couple are already parents to four-year-old twins Etta and Artie, who were born via IVF following several setbacks including two miscarriages.
Holly had a difficult pregnancy and the twins were born 33 weeks early by emergency Caesarean.
The couple were a little shocked when they conceived their new little one naturally, and thankfully the baby has been born healthy and with no complications.
In fact Holly gushed: 'Everything went perfectly!'
Taking to Instagram to reveal that she and Freddie had welcomed a new baby girl, Holly also revealed the special meaning behind their daughter's new name.
Holly explained: 'Freddie & I are thrilled to announce the birth of our beautiful daughter. Born on December 29th at 7lb 5oz - this time around everything went perfectly! Etta and Artie are really excited to have a sibling.
'We named her Lola Snow Templeman Andrewes. Etta's middle name is winter, so when she suggested "Snowy" as a name, we thought it was very fitting. Templeman is my mum's maiden name & she was delighted to hear we had chosen it for Lola. It was absolutely amazing to see in the New Year as a family of five.'
A few days later the mother-of-three posted another sweet picture of Artie holding his new little sister with the caption: 'I'm just loving watching our children getting to know each other. @freddieandrewes'.
Holly has just under 60,000 Instagram followers so it is no surprise that her posts have been flooded with congratulatory messages.
One person wrote: 'Congratulations to all of you, amazing start to the new year 😘'.
Another said: 'Congratulations it's so beautiful to see the magic of sibling love when a baby arrives.. enjoy x'.
A third added: 'Many congratulations to you all!! Wishing you all the best with the addition of little Lola 💕 xxx'.
We are sure grandfather and English businessman Richard Branson is excited to meet the new addition to the family!