Jessica Chastain confirms she welcomed first child with husband Gian Luca Passi de Preposulo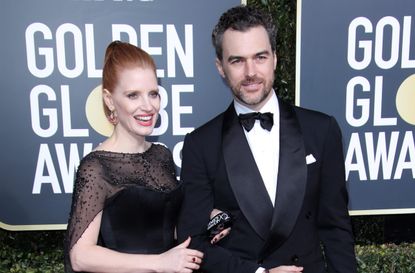 Jessica Chastain has confirmed reports that she's welcomed a baby with her husband, Gian Luca Passi de Preposulo.
The Hollywood star - who's featured in films such as The Help and Molly's Game alongside Idris Elba - shared a snap of her baby's hands on her Instagram, confirming that she did become a mum in 2018 after unconfirmed reports emerged earlier in the year.
Alongside the sweet photo, where the baby is seen reaching for a beautiful ring Jessica is holding, she wrote: 'You've got good taste, kid.'
The post left fans surprised but confused, as they never saw the star pregnant. While this is the first time the Interstellar star has confirmed her lovely baby news, reports back in November suggested that she'd welcomed her first child – a daughter - via surrogate back in April.
One said: 'When did you have a child...wow.. congratulations!!! How lovely!!'.
Another asked: 'Did you have a baby?!'
The new mum also confirmed the news in an earlier picture caption, where she reflected about the past year. She wrote: 'Thank you all for respecting my privacy while I was blessed with the gift of becoming a mother. I must say that 2018 has been the best year of my life. So much love and joy to all of you. Happy New Year ❤️'
Their first child comes after the 41-year-old married Gian Luca, 35, an Italian entrepreneur, at his family estate in Italy, in June 2017.
They were together for four years before tying the knot, and she previously said it was him who changed her mind about marriage, as she'd never considered it before.
She told WSJ magazine: 'As we got to know each other, the idea of marriage shifted for me.
'There are some things worth celebrating — and he's worth celebrating.
'I actually love being married. I never thought I would, but this is a spectacular human being, and I am celebrating that I get to share my life with him.'
Congratulations to the couple!