The Kate and William rare sweet moment during the royal wedding you might have missed
One word: awww!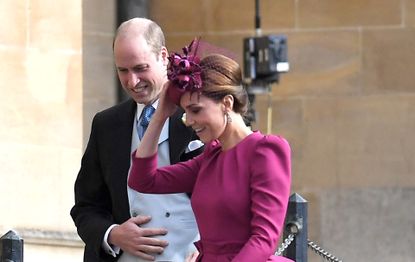 (Image credit: James Gourley/REX/Shutterstock)
Kate and William shared a very rare sweet moment during the royal wedding - but did you miss it?
On the day of Princess Eugenie's wedding to long-term boyfriend Jack Brooksbank, all eyes were on the bride, groom and star-studded wedding party.
And while there were bound to be gasps of 'awww' from royal fans as the adorable couple's magical moment was broadcast live on TV, hearts were also melting for an entirely different reason.
The Duke and Duchess of Cambridge proved their love and affection for each other was still very much alive seven years into their marriage, as they took their place in the chapel pews.
Kate and William watched the ceremony unfold holding hand in hand, in what is a rare public display of affection for the couple.
The royals may have taken inspiration from newlyweds Jack and Eugenie who were seen caressing each other's hands at various stages throughout their nuptials.
Or maybe they were moved by the imposing surrounds of St George's Chapel and the memory of royal weddings that have taken place there throughout the years. These include the marriages of the Duke and Duchess of Sussex and the Earl of Wessex to the Countess of Wessex.
Royal fans on social media naturally couldn't contain their excitement when they spotted the sweet moment.
One wrote: 'Cambridge fan swoon alert - William and Kate holding hands!'
While another added: 'Update: Kate and William are engaging in a "PDA" and are holding hands.... Awwwww #RoyalWedding'
But it seems that this is far from a one off for the couple in 2018.
Just a few days ago (October 9th) William was spotted with a reassuring hand on his wife's knee as they sat on the 'Friendship Bench' while attending the first Global Ministerial Mental Health Summit in London.
The year isn't over yet so dare we hope for more loved up snaps of Kate and Wills? We're keeping our fingers crossed!
Freelance Lifestyle Writer
Miriam Habtesellasie is a freelance lifestyle writer who has contributed content to GoodTo, Woman&Home, Women and Idealhome.co.uk. Miriam is based in London and is a fan of everything interiors, she admits to being spoilt for choice living in the capital. From stunning architecture right the way through to eye-catching department store window displays, she believes there's always an angle to be found that can translate to our abodes.